Are you tired of boring and uninspiring training materials that leave your employees feeling disengaged and uninterested? It's time to elevate your game and create training content that's not only from this century but is also exciting, engaging, and truly effective. Designing an effective training program is a continuous process that demands effort, time, and dedication. Luckily, emaze is here to help!
In this guide, we'll show you how to design a custom training program that is tailored to your business's needs and helps your new employees thrive in their roles. We've included more than one easy-to-use training plan template that you can edit, share, and download. Whether you're a seasoned training professional or just starting out, our templates will help you design training program that's engaging, effective, and up-to-date. So, let's get started on transforming your training content and making it a hit with your new hires!
 What Are Training Materials?
Training materials, such as presentations, handouts, and quizzes are the key to providing your employees with top-notch training. They are designed to provide valuable information, engage your new hires, and help them retain what they have learned. Investing in the right training materials can make a huge impact on the success of your training program and empower your employees to excel!
Why Are Training Materials Important?
Training materials are the secret weapon for companies that are looking to save time, money, and provide a personalized learning experience for their employees. With the help of a training plan template, you can kiss repetitive development goodbye and embrace efficiency like never before.
With emaze's analytics tools, you can track the effectiveness of your training content and measure the impact it has on your employees. This will not only help you determine if you're reaching the right people but will also provide valuable insights on how you can improve and refine your training program.
And the best part? Training materials are the ultimate multitaskers! They're versatile and can be used by different people, departments, and locations. Whether you're looking to train new hires or upskill current employees, access to quality training materials can boost confidence and encourage continuous learning. So, what are you waiting for? 
What to Include in Your Training Materials
Don't know what to include in your training materials? Don't worry, we're here to help! To make your training materials truly unforgettable, you need to include several key elements. Set some time aside to prepare the content you want to include. Here are several suggestions: 
Clear learning objectives

A well-structured content outline

A warm welcome to the company and its culture

An overview of job descriptions and responsibilities

Safety regulations and protocols

Industry specific knowledge and trends

Engaging practice exercises

Test questions
When you cover this important information in your training materials, you'll be well on your way to creating a training program that's engaging, informative, and effective.
Examples of Training Materials
Handouts: Give your employees the gift of self-paced learning with training handouts. Provide them with valuable information and let them take the time to go over it at their own pace.
Videos: Want to teach your employees new skills in record time? Video templates are an engaging and visually appealing way to educate them.
Quiz templates: Put your employees' knowledge to the test with an interactive quiz template from emaze. Using a quiz template is a fun and effective way to gauge your employees' understanding of the training content while keeping them on their toes.
Presentations: Impress your new hires by using a stunning training presentation template from our collection! Customize presentation templates using data visualization, widgets, and various types of media.
Training Manuals: Keep your training materials organized and professional with training manual templates. Training manuals provide a comprehensive overview of the material and serve as a valuable resource for your employees.
From presentations to quiz templates, emaze has everything you need to create training materials that are not only informative but also engaging and memorable. Don't believe us? Just take a look at this aesthetic training presentation template:


 Click here to transform your employee training with emaze's customizable templates!
How to Develop Training Materials
Are you ready to create training materials that will engage and inspire your employees? Follow these steps to learn how to design training program.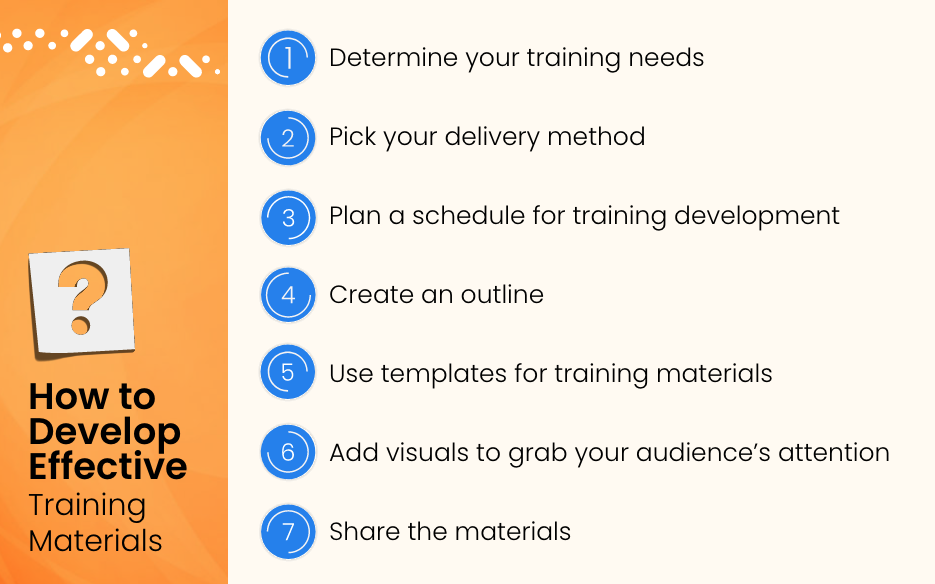 1. Determine Your Training Needs
Take charge of your training content and design a program that truly resonates with your employees. It all starts with identifying your training needs and setting clear goals. Ask yourself, what do your employees need to know to succeed in their roles? The answer may vary for different positions. For example, employees in sales may need to learn how to close deals effectively while employees in marketing may need to learn how to create and execute successful campaigns.
2. Pick Your Delivery Method Wisely
The way you deliver your training content can make or break its impact. So, choose wisely! Will a captivating presentation be the most effective way to communicate your message? Or, will handouts provide a more personalized learning experience? The key is to choose the method that will keep your audience engaged and help them retain the information.
3. Plan a Schedule for Training Development
Creating effective training materials takes time, so it's necessary to plan accordingly. Start by determining how much time you'll need and setting a deadline. Make a list of the resources you'll need to design training program and prioritize them based on cost, time, and quality. Next, create a schedule for delivering each piece of content. By having a solid plan in place, you'll stay organized and ensure that your materials are ready when you need them.
4. Create an Outline
Before you dive into writing your training content, take a step back and create an outline for each piece of content. This will help you organize your thoughts and ensure that your training content is structured, effective, and easy to follow. Your outline should include an introduction, key points, and a conclusion that ties everything together.
5. Unleash the Power of Training Templates
Why reinvent the wheel when you can use templates that have been proven to be effective? With training templates, you can create professional and polished training materials in no time.
Looking for an eye-catching training presentation template that will inspire your new employees? Choose a template from the list below or browse through emaze's vast template library to find the perfect fit for your needs.
6. Add Visuals That Grab Your Audience's Attention
Keeping your new hires engaged is probably the biggest challenge that employers face while training them, but with the right visuals, you can make a lasting impression. Embrace the power of visual aids to make your training content more engaging and memorable. With emaze's easy-to-use editor, you can add images, videos, and various forms of data visualization to bring your training materials to life.
7. Share the Materials
Your training plan template has finally transformed from a rough outline into a stunning masterpiece, or an elegant butterfly, ready to soar. Now that your training materials are complete, you can share your content with your team to ensure that everyone is on the same page. This is your chance to get valuable feedback and make any necessary improvements before the training takes place.
Effortlessly Share Your Training Materials With emaze
Looking to share your training materials with your colleagues using emaze? No problem! Emaze provides several convenient methods for sharing your content:
Email: Whether you use Gmail or another email platform, emaze makes it easy to share your content with anyone, anywhere.
Link: If you want to share your training materials with a wider audience, simply click "Link" and copy the link. You can then paste the link anywhere you'd like, whether it be on your company website or in a group chat.
Social Media: Emaze allows you to share your training materials on social media platforms like Facebook, LinkedIn, Reddit, and more! With just a few clicks, you can reach a wider audience and get your message across.
Collaboration Features: With emaze's collaboration features, you can work with your colleagues on the same project. Simply select the team members you'd like to add, and give them immediate access to your content. Plus, they'll receive an email notification, so they'll never miss a thing!
Groups: With our Group Manager, you can easily create and manage groups for different departments in your company (sales, marketing, HR, etc.) and add various members. When you're ready, you can share your training materials with the whole group.
In addition, downloading your presentations in a variety of formats, such as PDF, HTML, and MP4, is a breeze with emaze. Whether you want to share your training content online or make it available for offline viewing, emaze has got you covered. Share your training content with confidence and watch as it spreads its wings, inspiring and educating your new hires. 
Streamline Your Training Creation With Our Templates
We've handpicked a collection of training material templates that emaze has crafted just for you. These templates are versatile and customizable, allowing you to effortlessly create professional training materials. Say goodbye to tedious and time-consuming training material creation, and hello to dedicating more time on other important aspects of your training program!
1. Corporate Training Template
Are you looking for a quiz template that combines simplicity and sophistication while providing your new hires with the perfect opportunity to put their learning into practice? Look no further than this training presentation template!

2. Sales Training Template
Mix up outdated sales training approaches with this fun and non-linear training presentation template.

3. Marketing Tactics Template
While this presentation template may not have been designed specifically for training purposes, it certainly packs a punch! From its vibrant colors to its page-turning slide transitions (literally), this presentation template is sure to turn a few heads.

Customize Your Training Materials With emaze Templates
Training materials are an integral part of any training program, but if they're dull and uninspiring, they're not going to get the job done. You can't expect your employees to grow and excel in their roles if your training materials look like they belong in the '80s. It's time to bring some life to your training materials and create a program that's engaging and effective.
That's where emaze comes in! Designing training materials from scratch can be a challenge, but we've made it our mission to provide you with presentation and quiz templates that will help you train your new hires with ease. Sign up for emaze today and start customizing your training materials to avoid a snooze-fest!