We're taking a deep dive into the world of influencer marketing to understand the 4 types of influencers- mega, macro, micro, and the newly formed category, nano influencers. Find out everything you've always wanted to know about the different kinds of social media influencers!
What is an influencer?
A digital influencer is an individual who produces content that influences behavior and impacts a group of people, typically their "followers." They usually have a high capacity of producing content relevant to their audience, and generating a lot of engagement. The definition of influencers has  remained fluid over the years, and every so often we learn about a new category of influencers. Recently, there has been a new term on the market for a 4th category of influencers.
Here's a breakdown of the four main types of influencers on social media networksÇ
Mega influencers – Top social celebrities with over one million followers. These are often celebrities that are famous for what they do in the "real" world, like actors and models. (Example:

@niinasecrets

and

@kyliejenner

 Macro influencers – Influencers that have between 100,000 and 1 million followers. (Example:

@omundoanimal

and

@loud_victor

)

Micro influencers – Someone who has between 1,000 and 100,000 followers. (Example:

@hellorigby

and

@physicalkitchness

)

Nano influencers – A new category, typically defined as someone with less than 1,000 followers who has a heavy influence with a comparatively small market. A nano influencer might be a well-known person  in a particular neighborhood or niche community. (Example:

@nalentian

and

@thesensiblefay

)
"The nano influencer could be more important to brands that want more people to have a real connection with their brand as opposed to more people knowing about it. A nano influencer would also be more important to a local business in a particular area." – InflowLabs.
Influencer Marketing trends in 2019/2020
Now that you have a better picture of the different types of influencers, let's talk about their trends. Although influence, by definition, is a phenomenon inherent in the nature of groups of people – and therefore long before the internet -, the term "influencer" is nowadays closely associated with digital platforms and social networks. As a result, according to Google Trends, the word is three times more sought in 2019 than it was in 2014.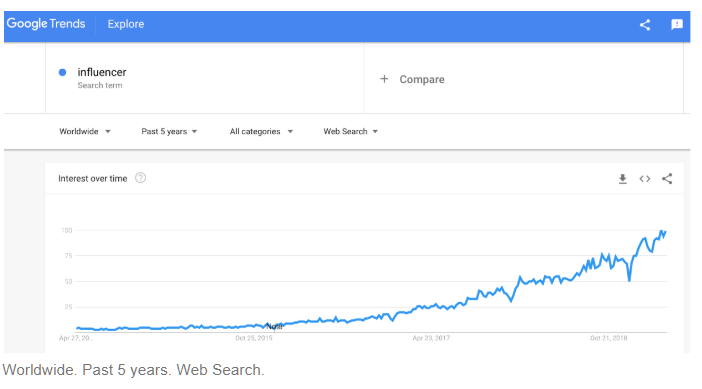 Meet the nano influencer
Most people know about mega influencers and micro influencers, but as we mentioned, there's now a new category of influencers to know about – nano influencers. Believe it or not, when it comes to social media, nano influencers have a great deal of power even though they have a fairly limited reach, due to their high level of organic engagement. Nano influencers are a force to be reckoned with. For example, fashion and yoga lover, Gi Shieh, has "only" 790 followers on Instagram, but her opinion has deep influence over the lives of her friends and followers. Her content may not reach a huge global audience, but it is authentic content that her followers consistently engage with.
Nano influencers are proof that the old saying "quality over quantity" still rings true. Local brands or niche businesses are choosing to invest in nano influencers in order to generate and promote their products and/or services in the hopes of capturing the attention of a deeply engaged audience. This makes nano influencers a new source of value to brands, since they will market brands' products through real and authentic people with small, intimate and dedicated followings.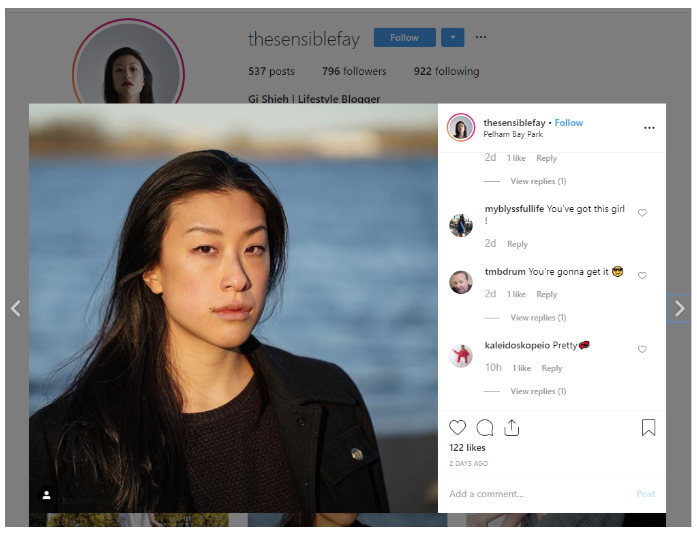 Emaze websites for content creators
At Emaze, our goal is to help users easily design their own visually compelling and engaging content that wows their audience. Our tools are designed to empower influencers at every level, enabling nano influencers to create their own custom professional websites without having web design skills or hiring expensive designers or developers.
Now it's your turn to try it out! We would love to hear how you successfully used Emaze tools to engage your social media followers. Email your story to info@emaze.com  or let us know on Facebook, Twitter or Instagram