Yay! Our unusual design masterpieces can be personalized with your own text, images, and videos to generate a website, presentation, or photo album. Check out five new skins and get ready for engagingness– yes, we just created that term!
Startup – Presentation Template
Startups inspire. Your startup presentation should do the same! The unique design makes for an easy and attractive way for visitors to learn about your work. The colorful backgrounds used set the tone for a powerful and enlightening presentation. Introduce the team and topics, create a video slide, promote features and provide important information for attendees. Simply add your content details, share the link and step onto the world's stage.
Eco Talks – Presentation Template
Quirky, clean, and fun describe this crafty education template. Whether you're a student looking to document your adventures or a teacher wanting to share your knowledge. See what our designer Nir Livny has to say about this ecological vibe skin: "The dark background gives order and stability to the presentation. The reason why texts are placed in different sizes and geometric shapes it's to give a visual experience." So…Hover your mouse over the images and you will find this template is full of surprises.
Off The Grid – Website Template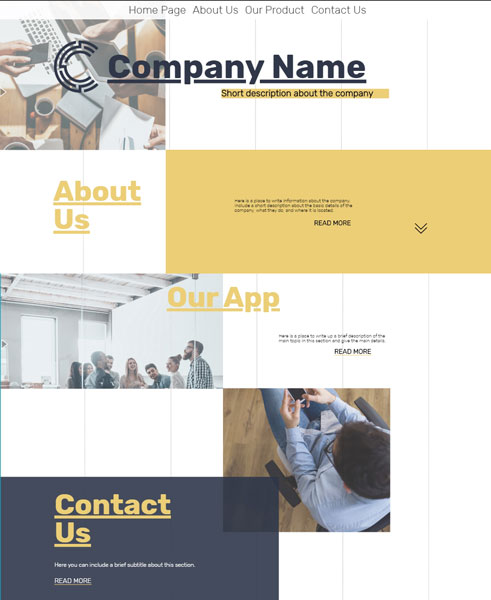 Like a great speech, your website needs movement and depth. Our designers were inspired by this when adding the grid style backdrop and vertical scrolling effect to this eye-catching template. The attendees of your event will not want to search through your site for details, so we made the home page as one-page site concise and to the point. But on the menu, they can see more details.
Social Energy – Blog Template
With blogging reaching great levels of popularity, we decided to dedicate a fresh blog template for this form of online content, providing influencers with a great layout for establishing their online presence. Based on the powerful Emaze platform, this skin provides excellent quality and display features. It's possible to easily integrate with YouTube, Instagram, Facebook and Twitter allowing followers to feel closer to you . The look and feel of this skin was designed to be fun and engaging, to keep the overall style in tune with the overall theme of the blog and with the content of individual posts. Do not forget to have fun with the gifs!
Colorful World – Photo Album Template
This catchy photo-album skin has already reached our template of the month. The candy (or… pastel) and bright colors make eyes shine. Let's check what our emazing designer Mila Dorfman has to say about this sweet template: "I combined 3D shapes in different scales to make this template enjoyable. We used several geometric forms such as torus, cylinder, octahedron, and dodecahedron. This skin matches with happy and memorable moments."
Ready to get started setting up your own visual content? Create an unforgettable project with Emaze and make a strong first impression!
We hope the five new skins above can help you achieve good results and impress all your audience!