Venue bookings — they can be a nightmare. One moment, your prospect seems interested, the next day you're ghosted. What went wrong? Was it the 15+ back-and-forth phone calls, or the long, size 8 font proposals?
It's not one or two things, it's your whole process from start to finish.
Clients are searching for the perfect space for their events, this could be anything from banquet halls to hotels with event and conference room rentals, but with endless choices and missing details, they don't know if the offers meet their needs. In such a competitive market, how do you make your venue capture (and hold) their attention?
This is where Automaze for events and venues steps in — a cutting-edge solution created to redefine your booking experience. Automaze addresses the industry's most pressing challenges, simplifies processes for both the salesperson and client, and always prioritizes client satisfaction. Continue reading to uncover how this tool is setting the new gold standard for clients, venues, and salespeople worldwide.
Challenges in Event Management and Venue Booking
1. High Competition
In bustling cities all over, venues pop up at every corner, making the competition fierce. For salespeople, it's a race against time and other providers to secure bookings and stand out in a saturated market.
2. Building Trust
Building trust with clients in the event and venue industry is like planting a tree. It doesn't grow overnight but requires nurturing, patience, and consistency. When looking for event spaces or halls for rent, clients often have many questions.
Will the venue look like the pictures?
Will they provide what they promised?
Given the high stakes, and often significant investments involved in events, trust is critical. Ensuring a venue's credibility and showcasing its reliability are key to turning prospects into loyal clients.
3. Knowledge About the Venue
Prospects may hesitate to book a venue if they don't fully understand it. Without physically visiting the space or being able to access detailed digital resources, they're left trying to visualize it without the complete picture.
4. Complex Booking Process
When there are too many steps, misunderstandings, and missed opportunities, complex booking processes become inevitable, leading to frustrated clients and potential revenue loss. Not to mention, clients shouldn't have to hunt for vendors on their own when there's a solid chance that they're unreliable. By simplifying the system, you can keep clients happy and the revenue rolling in.
Addressing Those Challenges With Automaze
With so many details to consider and the pressure to find the perfect halls for rent that will meet your every client's needs, it's all or nothing. Designed to save time and simplify the complexities of booking and management, Automaze offers a comprehensive suite of tools tailored for salespeople that transforms a long, complicated process into a simple booking journey.
Automaze completely reshapes the event industry, prioritizing both efficiency and client satisfaction, starting with:

1. Organizing Data With the Digital Asset Manager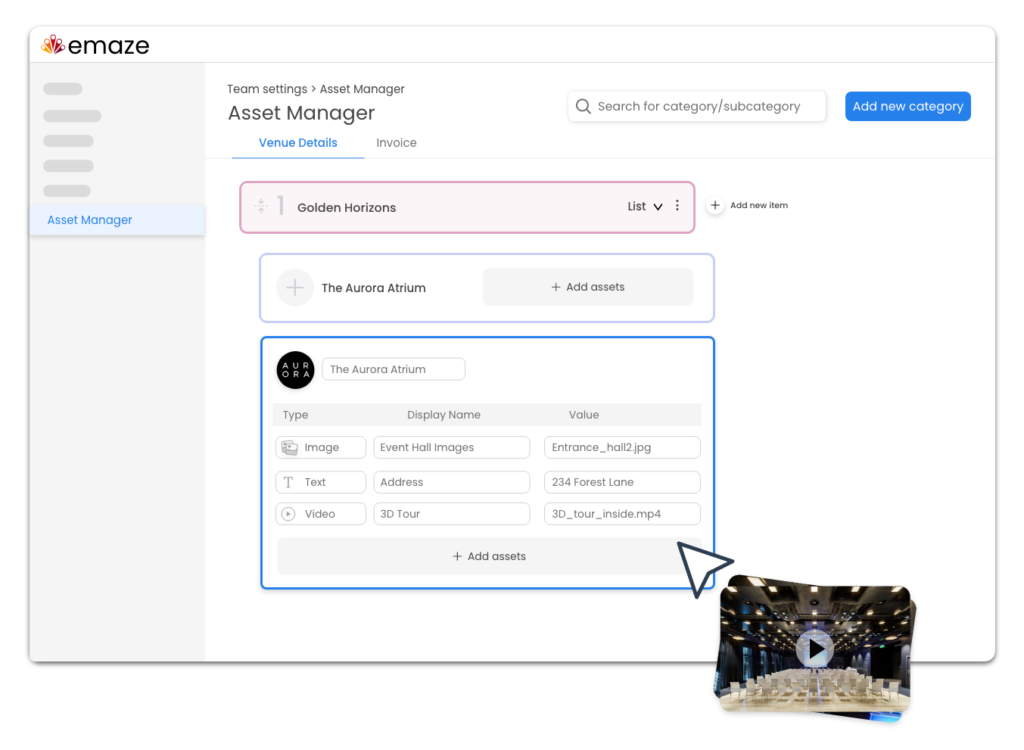 The Digital Asset Manager (DAM) is a one-stop hub for all event and venue details.
What does this mean for you?
Comprehensive Information. Storing extensive information about venues and event halls is a nice touch, but the Digital Asset Manager takes it one step further — all data is neatly organized into categories and sub-categories, such as by venue room. Quickly and efficiently organize:
Venue capacity
Operational days
Venue specifications
And more!
Vendor Collaboration. Got a circle of reliable vendors? Their details, along with your unique event packages, can be stored right within the asset manager.
Easy as Pie for Sales. DAM ensures that salespeople have all the information they need, right at their fingertips, making sharing with clients a 30-second task.
CRM Integration. With intuitive CRM integrations, accessing and updating records has never been easier, ensuring you always have the latest information on clients and prospects.
Time-Saving Automations. Automate repetitive tasks and processes, such as sales quotes, meeting summaries, event invitations, and more. Focus more on client interactions and less on manual data management.
Our Digital Asset Manager is a tool that not only keeps your assets updated but also amplifies your sales strategy by automating personalized sales content. The future of seamless event management is here, and it will make your job infinitely easier.
2. Get Ahead With Sales Analytics and Lead Conversion

In the chaotic event and venue industry, there's no room for guesswork. Automaze goes further than gathering leads — it finds the right ones. By observing how customers interact with content by analyzing open rates, time spent on content, and much more, Automaze intelligently pinpoints their interests. These analytics offer invaluable insights into peak engagement times, allowing for tailored follow-ups. This means you can reach out to pre-qualified leads based on solid, quantifiable data that results in higher conversion rates.
For venues, it's about more than just understanding the customer. Automaze offers venues the chance to identify unique selling points, understand customer preferences, and tweak strategies, ensuring you're always one step ahead of your competitors.
3. Personalized Client Interactions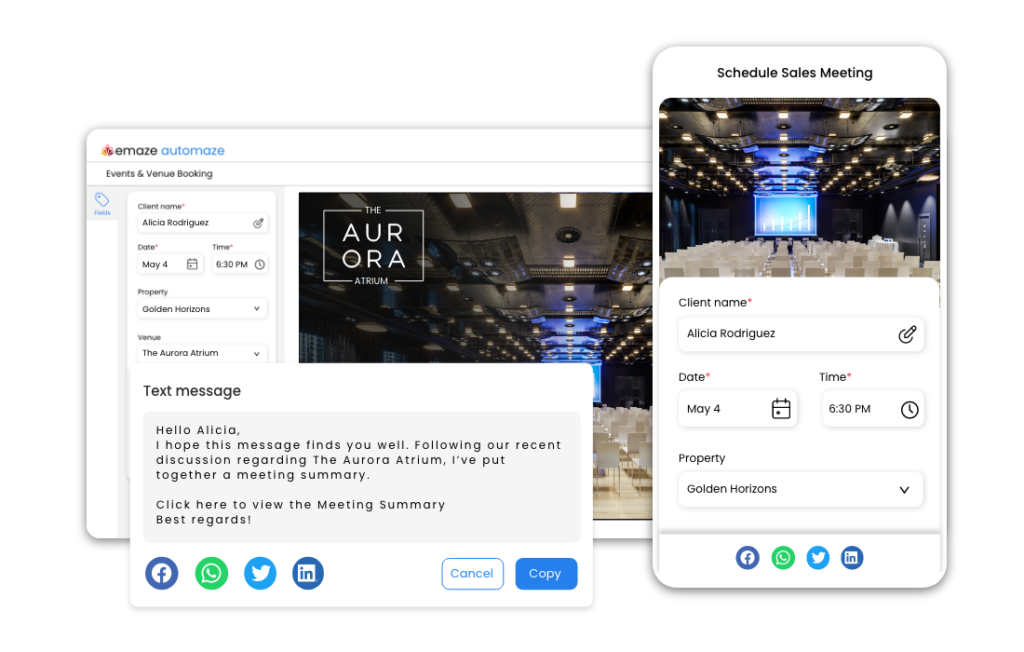 Storing data with the Digital Asset Manager is just the tip of the iceberg. Picture every client getting the VIP treatment. Automaze generates personalized sales quotes, meeting summaries, landing pages that autofill with the prospect's name, tailored event details, and so much more.
Ensure each interaction is carefully designed. What if the client has a change of heart about something? It's an easy fix! Making modifications is straightforward — your clients always receive a responsive and flexible service. Every interaction feels personalized because you truly understand and appreciate your clients.
4. Simplify With Seamless Booking
In the competitive event industry, salespeople need a modern tool that makes the booking process as smooth as possible. Once a prospect fills out your lead-gen form, sales teams can effortlessly send out personalized digital content directly to them. This precision minimizes the usual back-and-forth, ensuring clients receive options that truly meet their needs.
Venue Exploration. Salespeople will walk potential clients through a curated selection of venue offerings to showcase the space's potential. For those who want a more hands-on experience, in-person visits can be arranged at this stage. Following this, creating detailed proposals becomes more systematic – presenting clear, tailored packages with transparent terms, and simplifying the decision-making process for the client.

Closing the Sale. Once it's time to commit, digital signatures make closing deals swift and paperless, with customized communications sending out instant confirmations.
Through every stage, Automaze isn't just a tool; it's a salesperson's ally in delivering a productive, and compelling booking journey.
Experience the simplicity and efficiency of Automaze's booking process. Schedule a demo and see it in action.
5. Instant Venue Showcases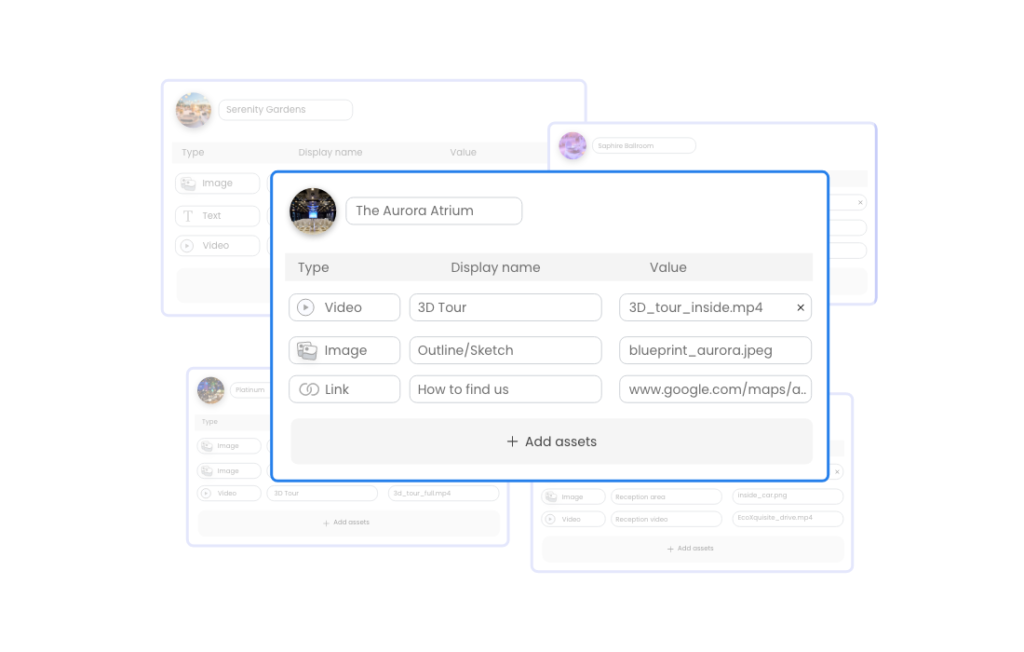 Virtually exploring a venue while sipping your morning coffee at home is a dream come true for most. And with Automaze for events and venues, it's entirely possible. Prospects can immerse themselves in a full 360-degree view and soak up every detail without leaving their homes or offices.
Embedded virtual tours and videos provide dynamic walkthroughs, showcasing the ambiance and potential layout possibilities.
Detailed sketches offer a blueprint, helping clients visualize the space for their events.
Maps offer geographical context, giving insights into the surroundings and accessibility. This extensive digital experience, powered by Automaze, is almost like seeing the event venue in person.
Your clients are busy people — they can make informed decisions without the headache of driving across town to visit multiple sites. This also gives venues the ability to present their spaces in the best light, anytime and anywhere, efficiently using resources, and impressing potential clients. The result is a cost-effective and interactive venue selection journey that goes beyond the modern client's expectations. 
Conclusion
From sweeping halls to hotels with event and conference room rentals, Automaze simplifies the entire booking process, while bringing innovation and organization to the table. Forget ever feeling lost or overwhelmed, our Digital Asset Manager makes those frantic mid-meeting scrambles a thing of the past. Not to mention that our seamless booking experience has got each client feeling as though the red carpet has been rolled out just for them.
But here's where we truly stand out: working with emaze is a partnership — not a long distance relationship — we are here with you at every step of the journey from beginning to end. We're dedicated to refining and redefining our solution to match your unique needs. So, are you ready to transform your venue booking experience and leave the old ways behind? Schedule a demo with Automaze for events and venues and witness the transformation that will leave competitors wondering why their conversions suddenly dropped.