The banners are hung, the confetti locked and loaded, you're just about to seal the deal with a big client — it's a sure thing. But you've reached their voicemail for the third time today and your emails are left unanswered. You've been ghosted.
How could this happen? Was there not enough property information, or was it your inconsistent branding?
As you sit back and reflect, you realize it's not just a single oversight; it's a culmination of issues from the very first interaction to the way that you send them property details.
Clients actively searching for real estate, from commercial spaces to profitable real estate portfolios for sale, are looking for more than just properties — they're looking for a unified brand identity and sophistication that speaks to the quality of the company they're conducting business with. As you know, trust goes a long way, and a disorganized, inconsistent brand doesn't inspire trust.
Your prospects are wading in a sea of options — their sole focus is fishing out the best investments. What strategies can agents employ to truly stand out and capture their client's attention in this brutally competitive market?
Introducing Automaze for Real Estate – the custom-built solution that redefines property selling and leasing. Automaze, one of the most innovative real estate agent tools, simplifies complex processes by automatically generating and sending beautifully designed and formatted content like property comparisons, price offers, and much more.

Tackling Challenges in Modern Real Estate
To better illustrate our message, we'll introduce you to Alex, a fictional real estate agent who is learning how Automaze for Real Estate can help him through common challenges.
Alex is managing a vast portfolio of properties, each with its own set of viewings, inspections, and client meetings, all aimed at leasing and selling properties in bulk to interested investors and businesses. The stakes are high, as dealing in bulk not only means larger transactions but also significantly higher commissions, and a reputation that could skyrocket with each successful deal. Which leads us to Alex's first pain-point.
Missed Appointments & Disorganized Scheduling
One particular portfolio, a collection of modern, prime-location commercial properties, has piqued the interest of a major investment firm looking to expand their assets. Alex, sweating at the size of this deal, has painstakingly organized a week-long tour for the firm's representatives to view each property. The schedule is tight, the properties are many, and the logistics are complex.
The first day arrives, and Alex is at the first property, every detail double checked to ensure perfection. But as the clock ticks away, there's no sign of the investors. Calls go unanswered and a feeling of dread sets in. Later, a call comes through – the investors forgot due to their long list of other commitments. The countless hours spent on organizing what was meant to be a tour of promising properties has left Alex frustrated and deflated.
It doesn't have to be this way.
Automaze allows agents to easily confirm that appointments and information sent to clients is actioned on time. On top of that, you can create beautifully crafted, customizable content to schedule property meetings, open houses, and inspections, with the ability to send out reminders and follow-ups if content remains unopened.
Our product ensures that every client interaction and scheduled meeting is respected and attended. Now Alex can avoid the frustration of missed appointments and disorganized scheduling, and replace his complex sales process with a seamless, organized, and consistently branded journey.
Inconsistent Branding & Misinformation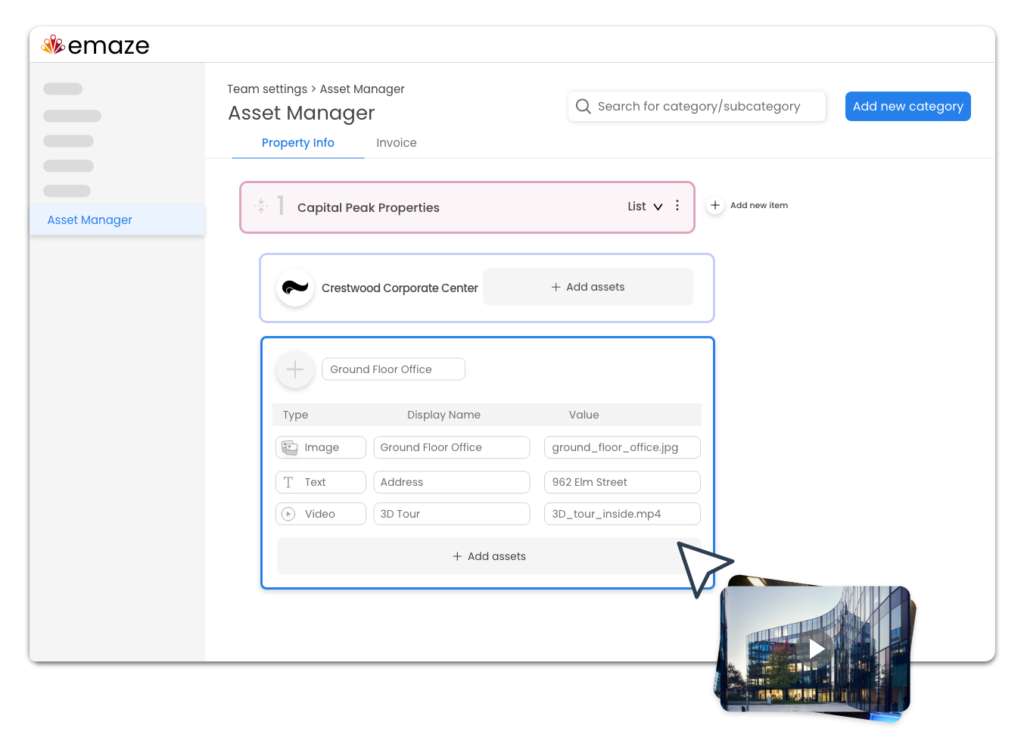 Investors don't have the patience to deal with discrepancies between details presented by agents and the actual properties, especially when another agent is waiting to swoop in. If facts are wrong, missing, or misrepresented, investors will find out — when they do, trust is lost, and the deal hangs precariously in the balance.
Automaze for Real Estate fills in the gaps, ensuring that details are accounted for and automatically organized with the Digital Asset Manager (DAM). From addresses to the number of floors in a property to images and addresses, accuracy and consistency in every client interaction and presentation is guaranteed.
Using the assets in DAM, you can send personalized, detailed content about each property directly to your clients, including comparisons of real estate portfolios for sale, property overviews, and the specifics of each property. Your clients will have the ability to immerse themselves in 360° tours, explore spaces with embedded videos, and understand layouts through detailed sketches, all without taking a step outside.

Seamless CRM integrations provide the latest information on clients and prospects so you don't have to go back and forth maintaining outdated data. DAM takes things one step further with brand consistent content that is automatically created, reducing disappointed clients and lost sales due to misinformation. Automaze for Real Estate accurately reflects every property detail, securing deals and your reputation in the process.
Struggling to Identify the Right Leads
Finding the right leads often involves sifting through cluttered databases that haven't changed since the late 90's, and cold calling. If you're really desperate, maybe even knocking on a few doors – all with the hopes of finding that golden lead that is ready to make that leap of faith. It's a time-consuming process that is downright exhausting and often disheartening. Every agent, whether seasoned or new, has felt the sting of spending hours chasing a lead that ultimately goes nowhere. How do you qualify your prospects so that you don't go down the rabbit hole?
Automaze is one of the best tools for lead generation for real estate. It allows agents to reach out to pre-qualified leads based on solid, quantifiable data.
How does it work?
Simply send out curated content to your leads, and let Automaze do the heavy lifting by analyzing how your leads interact with it. From open rates to time spent on content, every interaction (or lack thereof) is tallied through an intelligent lead scoring system which creates a clear list of qualified leads, that allows you to focus on the people most likely to sign.

Taking your strategy a step further, Automaze enables you to retarget leads directly on social media platforms. If a lead has viewed the content you've sent them but hasn't taken immediate action, our product intelligently retargets those specific leads on their social media feeds, always keeping your properties and exciting offerings on their minds.

The aggregated data you have access to is about more than just understanding your prospects. It's about transforming that understanding into an actionable strategy that pushes you ahead of your competitors. With the power to identify unique selling points, grasp customer preferences, and refine strategies, Automaze is the only tool that lets you define the pace, set the trends, and lead the charge.
Ready to transform the way that you engage with leads and take your strategies to new levels? Schedule a demo with us and witness firsthand how Automaze can turn your struggles into success.
Impersonal Client Engagement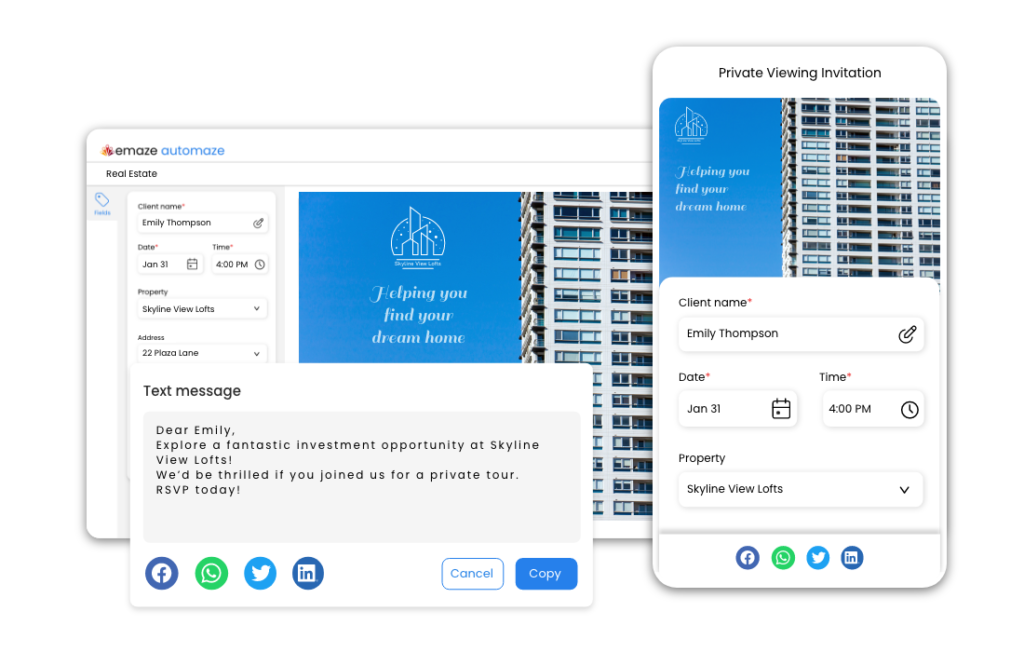 Getting back to our fictional agent, Alex has always prided himself on his ability to connect with clients. However, he's noticed a recurring issue that has been nibbling away at his deals: impersonal client engagement. The emails and presentations showcasing a variety of properties from portfolios that Alex sends out to potential investors are informative but lack personal touch. Despite finding some properties interesting, investors feel sidelined, as the communication doesn't address their specific interests and investment strategies. The emails are professionally written, but could have been sent to anyone and everyone (and they were, but you don't want investors to know that). The result? A lost connection and a deal that slips away.
Real estate agent tools built for agent/broker success can prevent missed opportunities and transform them into solid deals. Sent out content like CMA reports, open house invitations, or price offer templates, can be personalized to resonate with the recipient.
Automaze presentations are visually appealing and meticulously tailored. This establishes trust and most importantly, shows clients that they are seen, heard, and valued. So ask yourself this: Why keep sending out generic emails when you could be sending interactive content that solidifies long-term and meaningful relationships?
Conclusion
Being a real estate agent comes with its fair share of problems, like figuring out how to establish genuine connections, and that accurate property information reaches every client. You need a tool that reshapes the way you sell and lease properties in bulk, and addresses everyday issues from making client interactions more personal to mastering lead generation for real estate.
Automaze for Real Estate is an assurance that every opportunity is capitalized upon and clients are automatically catered to. With Automaze, agents have the tools that give them the best possible chance at success.
Schedule a demo with Automaze for Real Estate to build a solid and impressive reputation in the real estate world.