Are you tired of delivering the same old boring presentation? It's time to ditch the traditional approach and step up your game with interactive presentation ideas that will completely mesmerize your audience. Creating an interactive presentation can be challenging, but with the right tools and techniques, it's easier than you think. From icebreakers to data visualization, we've got you covered with nine ways to make your presentation interactive. Don't settle for a dull and unengaging presentation, let us show you how to make a presentation interactive and blow your audience's mind.
1. Start With an Icebreaker
Starting your presentation with an icebreaker is a great way to set the tone for the rest of your presentation and get your participants' attention right off the bat. Although this may seem tedious, coming up with an icebreaker can be as simple as asking a question related to your topic, playing a quick game, or giving your audience a task to complete. The goal is to make both you and your audience feel more comfortable and relaxed. As a result, your attendees will be more receptive for the rest of your presentation. 
Ice breaker ideas to use in your presentation:
Invite your audience members to introduce themselves and to share an interesting personal fact.

Ask them to complete a quick survey or quiz related to your topic. 

Give your audience a task to complete. For example, create a word puzzle that is related to your presentation and have them work together to solve it. 
There are endless possibilities to what you can do! If you want to keep your attendees on their toes, you need to think outside of the box. 
2. Use Videos in Your Presentation

Videos are a powerful tool for keeping your audience captivated and will add visual interest to your presentation. We all know that a picture is worth a thousand words, but a video is worth a million. The power of video is undeniable. It can help you convey information in a way that words alone simply cannot. You can show examples, demonstrate a process, or tell a story that will captivate your viewers in a way that will leave a strong impression on them. And the best part? It's easy to do. With emaze, you can easily embed videos into your presentation and make it more dynamic and engaging. So why settle for a boring presentation when you can have one that truly comes to life? Add videos to your next presentation and notice the difference they make!
3. Have a Q&A Session
The best way to create an interactive presentation that your audience thoroughly understands is to have a Q&A session. Encourage your participants to ask questions and provide clear and concise answers that will not only keep them engaged, but will also give them the opportunity to dive deeper into the topic of your presentation. To make your presentation even more interesting, try to incorporate a Q&A session throughout your presentation and not just at the end. This way, you can address questions as they come up, make sure that your audience is paying attention, and guarantee that the information you're presenting is being understood. Opening up the floor to your participants will only help them retain the information that you want them to. 
4. Gather Feedback on Your Presentation

Use the end of your presentation as an opportunity to gather feedback from the attendees. We're always ready to rate our Uber and food delivery drivers, so why should presentations be any different? Gathering feedback is the best way for you to find out how you can improve your presentation for next time, steering clear of creating a boring presentation.
With emaze, you can gather valuable feedback from your audience and use it to make your presentation even more engaging. Our platform offers a large selection of interactive surveys and training templates that you can customize to match your brand and style. 
You can ask questions such as: 
How would you rate today's presentation on a scale of 1-10?

What could be improved for next time?

What was your favorite part of the presentation?
Don't miss out on the opportunity to gather feedback and improve your presentation. Click here to begin creating surveys and other training materials with our editor.
5. Use Props
Props may seem like an old-fashioned technique, but when it comes to how to make a presentation interactive, they can be a powerful tool to keep your participants engaged. Props can be used to showcase examples, demonstrate a process, or tell a story in a way that words cannot. They can also be used to create interactive elements, such as hands-on activities or demonstrations. Imagine being able to physically show your audience a product or process, or even giving them the opportunity to experience it for themselves through hands-on activities. This will not only help them understand your message better but also make your presentation more dynamic and impactful. Use props to make your point and take your presentation to new heights in terms of interactivity.
6. Add an Audio Narrative or Music to Your Presentation Slides
Bring your presentation to life with an audio narrative or music! A well-crafted audio narrative can tell a compelling story, while carefully selected music can set the perfect mood for your presentation. These elements will transport your viewers into an immersive experience, making your presentation truly unforgettable.
Use an audio narrative to:
Spin a captivating tale

Share customer testimonials
Use music to:
Get your audience pumped with upbeat tracks

Create a relaxed atmosphere with soothing music
Don't just rely on your slides, use audio and music to take your presentation to the next level and leave a lasting impression on your audience.
7. Play Around With Animations, Effects, and Styles
Using animations, effects, and styles may sound outdated, but they can be the key to making your presentation engaging. Emaze offers a wide range of animations, effects, and styles that you can use to add some flair to your presentation. And for designers, we even provide an infrastructure for writing CSS code to create custom effects!
Here are some ways you can use animations, effects, and styles in your presentations:
Animations: Bring static images, text, and objects to life.

Effects: Add entrance and exit effects to objects, such as Bounce In or Slide Out and watch the magic unfold. 

Styles: Give your presentation a unique look by adding Shadows or Filters to images, text, and objects. 
Playing around with animations, effects, and styles will not only make creating your presentation more enjoyable, but will also leave a lasting impression on your audience.
8. Tell Your Audience a Story
One of the most effective interactive presentation ideas is to tell a story! Storytelling is a powerful tool to engage your audience and make your message more personal. By weaving a captivating tale, you can convey important information, make a point, and create a deeper emotional connection with your attendees. Storytelling will make it easier for your audience to understand and remember your message.
Here are some examples of stories you can tell:
Share a personal story related to your topic, such as how your company helped a customer solve a problem.

Use a fictional story to illustrate the consequences of a particular course of action.

Use a case study to show how your solution helped a business overcome a challenge.
Don't just rely on facts and figures, use storytelling to bring your message to life!
9. Use Data Visualization in Your Presentation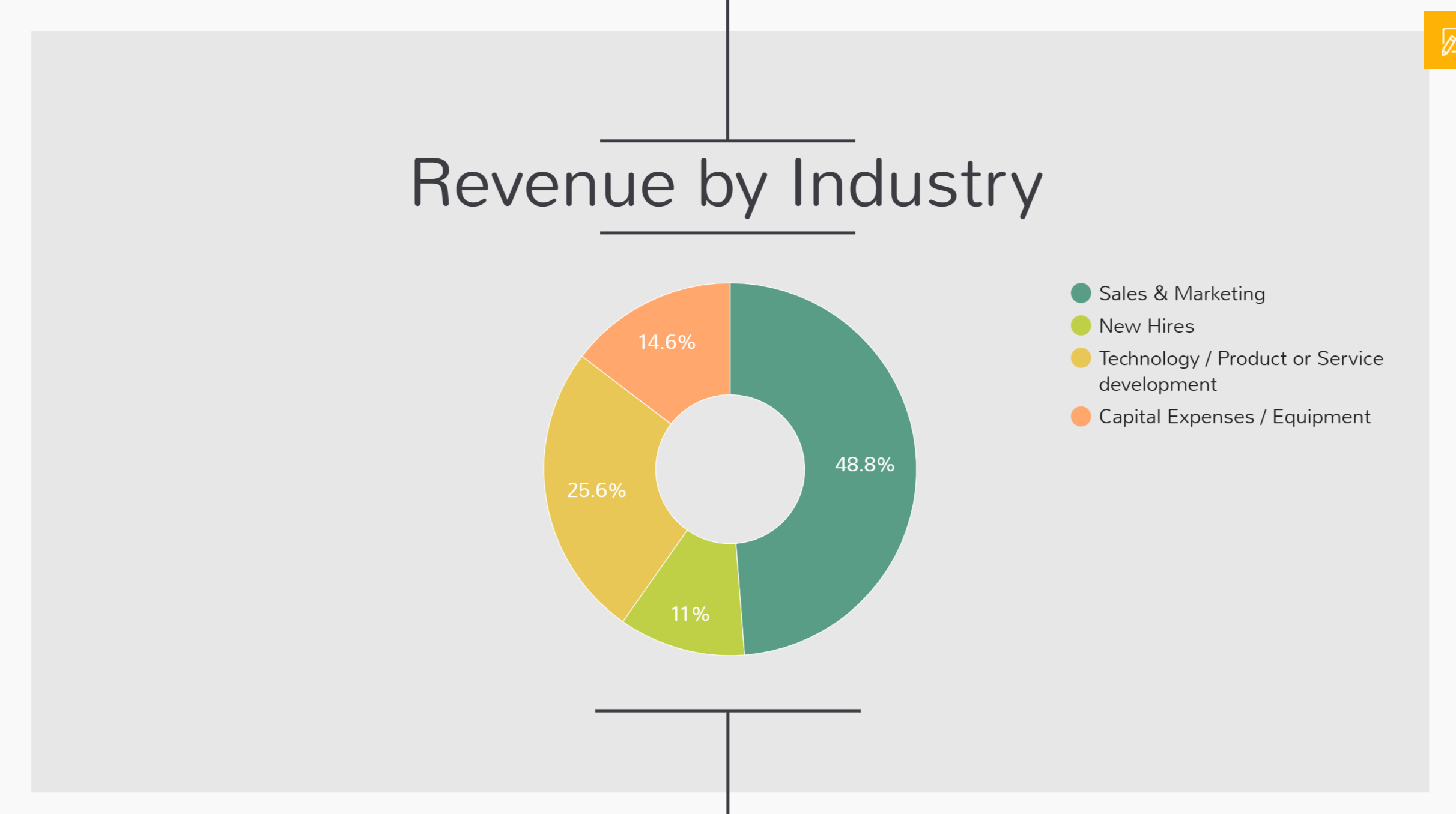 We know that numbers can be boring, but when it comes to how to make a presentation interactive, you can turn those dry figures into a visually stunning and interactive experience with data visualization. Emaze's editor contains all kinds of graphs and charts that you can use to incorporate data visualization in your presentation, making complex information easy to understand. With the wide range of options that are available at emaze, you can bring your data to life and have a powerful impact on your audience. Instead of letting numbers bring down your presentation, elevate it with data visualization and make it an unforgettable experience!
Bring Your Presentation to Life
Are you ready to say goodbye to the dreaded "boring presentation" and hello to an interactive and mesmerizing experience? By incorporating techniques such as icebreakers, video clips, surveys, props, audio narratives, and data visualization, you can create a presentation that will engage your audience members and make your message more memorable. The key is to think creatively and use interactive presentation ideas that will make your presentation stand out from the rest. Emaze is the perfect platform to bring your ideas to life and create a visually stunning and interactive presentation that will leave your audience begging for more. Instead of settling for a boring presentation, set the bar higher. Create your unique interactive presentation today by clicking here!