Prezi is a fantastic presentation tool, but if you're looking for a platform that doesn't go overboard with the zooming in and out effects (we know, it can get confusing), you're in the right place!

To save you the trouble of looking for the best alternatives to Prezi on your own, we analyzed 4 different presentation platforms and summarized our findings for each one!
1. Emaze – The Best Prezi Alternative for Non-linear Presentations
Of course, our very own software made it to the top of the list! While we may be a bit biased, emaze has some incredibly unique features you won't find anywhere else. For example, our Remote Presenting Tool allows you to give live presentations on any virtual meeting platform, making it easier for your colleagues or clients to join from anywhere in the world. While Prezi is famous for its zooming effect, or nonlinear navigation (which makes it possible to go through the material in your presentation without having to stick to a strict order), this layout can be confusing, especially if the presenter or viewer doesn't know how to use the functions. Emaze has a large collection of non-linear presentation templates (we call them 3D templates) that in our opinion, are easier to follow and designed to help presenters present coherently.
Pros: When it comes to 3D effects, selection of stunning templates, and

in-depth analytics

, emaze is completely unrivaled.

Cons: There is no option for offline editing.
Who should use this presentation software: Emaze is a fantastic choice for anyone looking to create beautiful presentations, but we think that students, teachers, and entrepreneurs will benefit the most from using this tool.
2. Haiku Deck – A Great Alternative to Prezi for Mobile Presentation Creation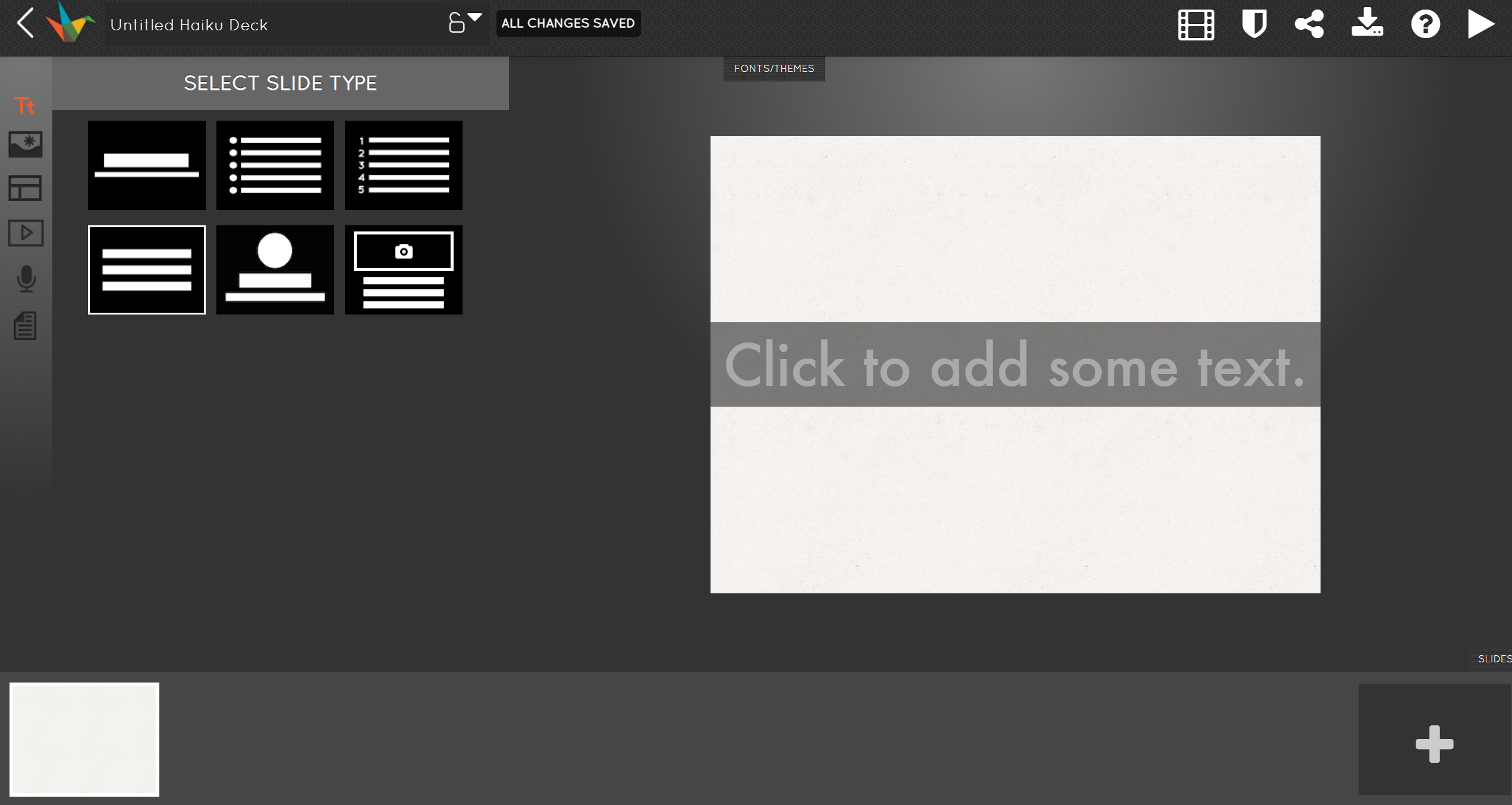 Haiku Deck created a bunch of buzz when it launched back in 2010. We love that this software gives users the ability to create and edit presentations on mobile devices in addition to the web. Because of how easy the user interface is to use, we quickly mastered the platform. But, Haiku Deck falls short when it comes to its features. While this software contains your basic slide layouts and the ability to upload images and videos, it doesn't offer much more than that. However, if you are looking to create presentations on a phone or tablet, don't overlook this quick and simple solution.
Pros: Creates aesthetic and clean-looking presentations. Platform is extremely simple to use.

Cons: Lacks many features that other platforms offer.
Who should use this presentation software: Haiku Deck is a great option for traveling salespeople who need to create professional-looking presentations while on the move.
3. Slides – An Excellent Presentation Tool for Developers

One of the most fascinating alternatives to Prezi we discovered was Slides. Slides is one of the only open source presentation tools that allows you to fully customize your creation using HTML, CSS, and JavaScript, making it the perfect solution for developers and designers! Additionally, because it's so easy to share presentations that can be edited remotely, this platform is great for team collaboration. Unfortunately, we encountered certain UI glitches that made using this platform a little difficult to use (such as dragging and dropping certain objects).
Pros: Unique platform with an easy-to-use interface.

Cons: Various UI glitches. Several import and compatibility limitations.
Who should use this presentation software: This platform was created for developers and designers who need to prepare professional presentations.
4. Pixxa Perspective – A Fantastic App for Chart-Crazy Presenters

Pixxa created an insane charting app. If you are a chart junkie you will love this app, just as much as we did! Although, we can't really call this a Prezi alternative because it's not a real presentation tool, it is wicked cool and we think that it is a great option for displaying complex data in charts. Unfortunately, this app is not only outdated, but also has several noticeable glitches.
Pros: With Pixxa you can create dynamic charts that you can add to your presentations. What's not to love?

Cons: Pixxa is only available on iPads and iPhones, and upgrading to the Pro plan is expensive.
Who should use this presentation software: Anyone who is looking for creative ways to present data in their presentation!
The world of presentation software is rapidly expanding, and each new option brings fresh concepts and features to the table. Depending on your needs, you can choose to use one, or even several of these incredible platforms. We hope that you enjoyed reading about these 4 alternatives to Prezi as much as we enjoyed using them!
Ready to take your presentations to the next level? Sign up here to start creating beautiful and unique presentations today!