Jun 25 2020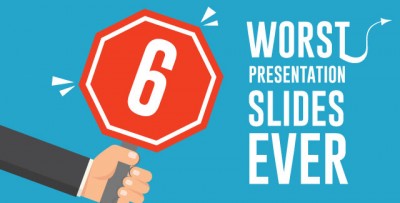 6 Worst Presentations Ever & Why They Suck [#5 Is CRAZY]
How many of these blunders do you make in your presentation slides? Or perhaps how many of these worst presentation slides ever did you actually have to sit through?!
Some of these examples of the worst presentations ever will make you laugh or even cry. If your presentation slides are looking anything like these, abort mission. I repeat, abort mission.
1. Information Overkill
Too much information
We have all been a victim of this one. Overloading your slides with information is a real turn off to any audience. It will bore your audience to death and force them to read off your slides instead of paying any attention to you.
"Slides should reinforce your words, not repeat them." – Seth Godin
2. Cheesy Images
Microsoft PowerPoint clipart
Really?! The internet is an amazing resource for professional stock images and yet if you still produce a collage of low-quality cheesy images… I can assure you that nobody is going to be excited about your presentation.
3. Haphazard color schemes
Clashing colored fonts and background
Need we say more? Your eyes are probably hurting right now. Bear in mind that slides projected on a screen tend to be fainter in color too. So, choose your color scheme meticulously.
4. Boring fonts are boring
Monotonous default fonts
This low-quality slide deserves an award for presenting the most exciting holiday of the year in the most boring way possible.
5. Unnecessarily fancy fonts
Flashy fonts overkill for a formal topic
Dressing well is one thing. But wearing a sequined party dress to a meeting is just awkward and inappropriate. That's exactly what's happening in this slide. Aim to strike a balance between creativity and professionalism.
6. Sloppy Organization
Poor proximity between text and images
Splashing images and text on a slide without organization will leave your audience confused about where to look. In this case, being organized can help you to save a life!
Avoid making the worst presentation slides ever
Is PowerPoint really still mandatory? 350 PowerPoint presentations are delivered every second of a day. But how many of them are actually beautiful and engaging presentations?
Be different.
There are many alternatives to PowerPoint that can help you to design presentation slides better and avoid these atrocious mistakes. You will discover that a well-designed presentation can really change the way you deliver your message for the better.