With at least 30 million presentations being made a day, we're here to tell you that presentations are most definitely here to stay. Whether you are choosing to use basic PowerPoint to create a presentation, or you use a cloud-based software like Emaze, the benefits of creating and giving presentations are as clear as ever.
Why are presentations important in the workplace and classroom?
It might seem obvious, but the art of giving a presentation is as old as time. For as long as humans have been interacting in any capacity, they have participated in one person presenting some kind of information to others. It is human nature to try to share new or important information with relevant parties in a way that is easy to understand and consume.
Perhaps the most effective and well-known way of doing this is by showing visuals and speaking at the same time, so that people can both see and hear the information simultaneously. After all, what would the world be if everyone kept their ideas to themselves, or didn't adequately explain them to others? Presentations are essential to progress in every industry and setting. Even before people were using computers to create presentations, business people and teachers would prepare slides for a projector, flips through pages on an easel, and hold up large cards with information and visuals on them, for their audience to view as they spoke.
Once Microsoft Word came out with PowerPoint, millions of people began creating PowerPoint presentations for everyday use. What was so unique about creating presentations this way was the easy and impressive format. Now, anyone could simply open up their computer, pick a design, format the layout and order of their slides, add important titles and subtitles to their slides, incorporate images, videos, graphs and charts. Besides for simply creating the presentations, people could print out their slides, sent their presentations over email, and send them and open them and present from any computer. Thus, presentations became one of the most expected and used components of any workplace and classroom. There was a huge need, and it was being solved.
Anyone might wonder, now, around 20-30 years from the beginning of widespread computer use, has technology evolved and made presentations irrelevant or outdated? Will information be conveyed in new ways now? Considering the rapid evolution of technology, this is a fair question. As humans and our needs evolve, the technology evolves to address those advancements. The sheer volume of presentations still be created every day has outlasted so many other technological advancements – the iPod, MySpace, AOL Instant Messaging to name a few. While there will continue to be new and innovative technologies that have and continue to replace PowerPoint as the tool for creating impressive presentations, using presentations in the workplace and classroom is not going anywhere.
What is the best presentation software?
Since we have determined that presentations as an entity are still being created and viewed in large numbers, and they are going to continue to be a popular way of conveying information and ideas in every sphere, where do we go from here? If presentations are here to stay, then how can someone make sure that they are maximizing their presentation's potential and making effective and impressive presentations that help solve their goal?
When at least 30 million presentations are being made a day, it can be hard to make yours be anywhere near one of the better ones. With many millions of those presentations being made with PowerPoint, so many of them simply look the same. Even if you get a little bit fancy and add some different fonts and background colors, there's still not much of a way to make a presentation more interesting and exciting.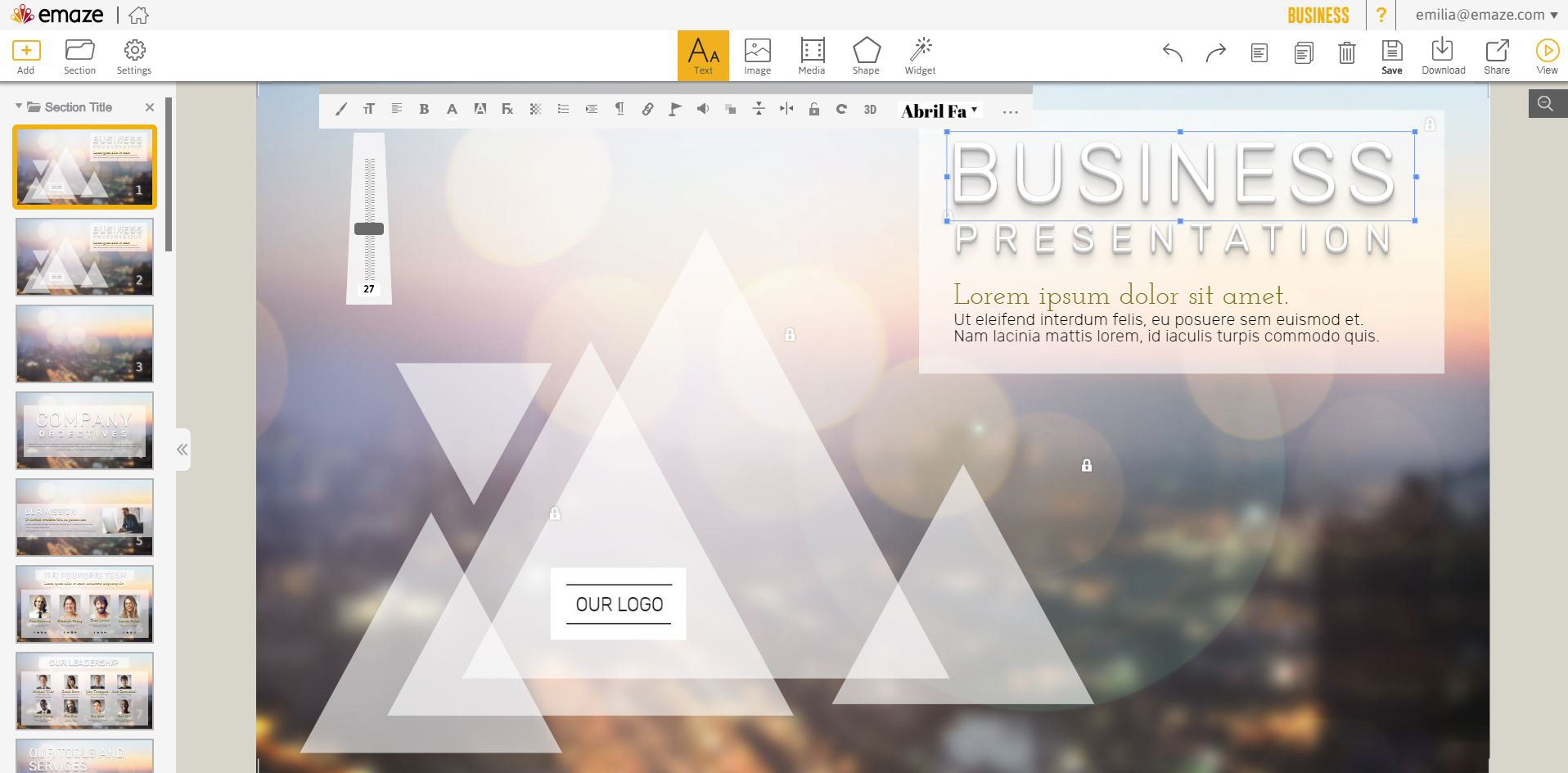 Insert Emaze, and numerous other innovative cloud-based presentation softwares. Softwares like Emaze offer a solution to the millions of people creating presentations every day and want theirs to be the memorable one, the one that captivates their peers, boss, clients, students and audience. The best presentation software is the one that enables users to not just do the bare minimum with their presentations, but to make something amazing. The best presentation software is one that gives its users all the tools they need to create an incredible visual experience for their audience, without having to have any special design or coding skills. The best presentation software is the one that saves its users time, money and energy, while not giving up any of the features or tools. The best presentation software is one that lets its users work from anywhere online, and then present from online or download their presentations to view offline. The best presentation software is one that has template designs and tools that are useful for people in any industry and field, from business to education.
Alternatives to PowerPoint promote growth and industry development
So perhaps, the answer is that while presentations are not going anywhere, PowerPoint may not always be the best place to make them. People are going to keep creating presentations for business meetings, lectures, school lessons, annual reviews, sales pitches, product demos and everything in between. There is something inherent about viewing information and hearing it at the same time- and this is not going anywhere. It is obvious that people will continue to use technology to make their presentations.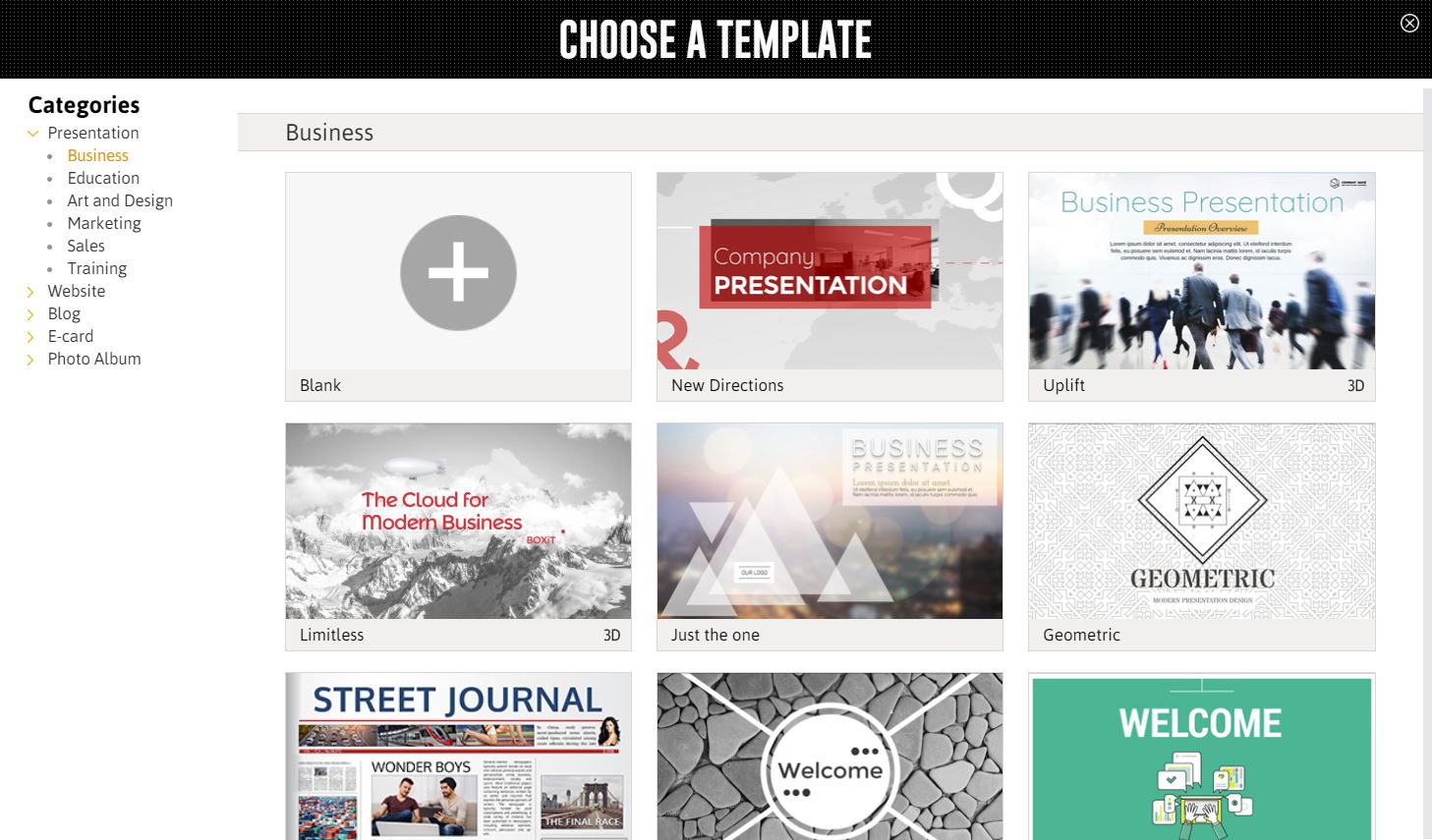 But, we believe that the use and trend of innovative presentation creation tools is only going to rise. People are starting to expect more of the tools that they use to do their day-to-day tasks. PowerPoint alternatives are going to continue to go up in popularity as people constantly hunt for the best presentation softwares. This is a good thing, because what this does is bring new kinds of presentations -new styles, designs, layouts, embedded media- to the ecosystem. This will make businesses more productive, engaged with new ideas, and will give many people the opportunity to refresh and upgrade their presentations like never before.