Everyone knows that first impressions matters. It applies to everything in life as what we see usually registers first whenever we experience something. We meet a new person and the first thing we'll notice is what they look like – in most cases, sight is the first sense that provides our brain with information about something or someone we encounter.
Emaze helps you to create professional presentation design
That's why, when it comes to business, you'll see that people who go on a lot of meetings will dress a certain way, and companies who host a lot of meetings will design their offices a certain way. All this is done with the aim of creating a specific first impression.
Same goes for presentations! When you send someone a presentation or even stand in front of an audience with the presentation on a big screen behind you, the first thing people will register is what the presentation design looks like. And, like it or not, whether consciously or unconsciously, a first impression is formed. Making sure your presentations look professional is just as important as making sure the information in your presentation doesn't have embarrassing spelling mistakes.
At Emaze, we know this and have put an emphasis on providing our users with professionally designed templates that will get you that "wow, I want to hear more" first impression you're aiming for.
Simply log on to www.emaze.com and choose from multiple professionally designed presentation templates!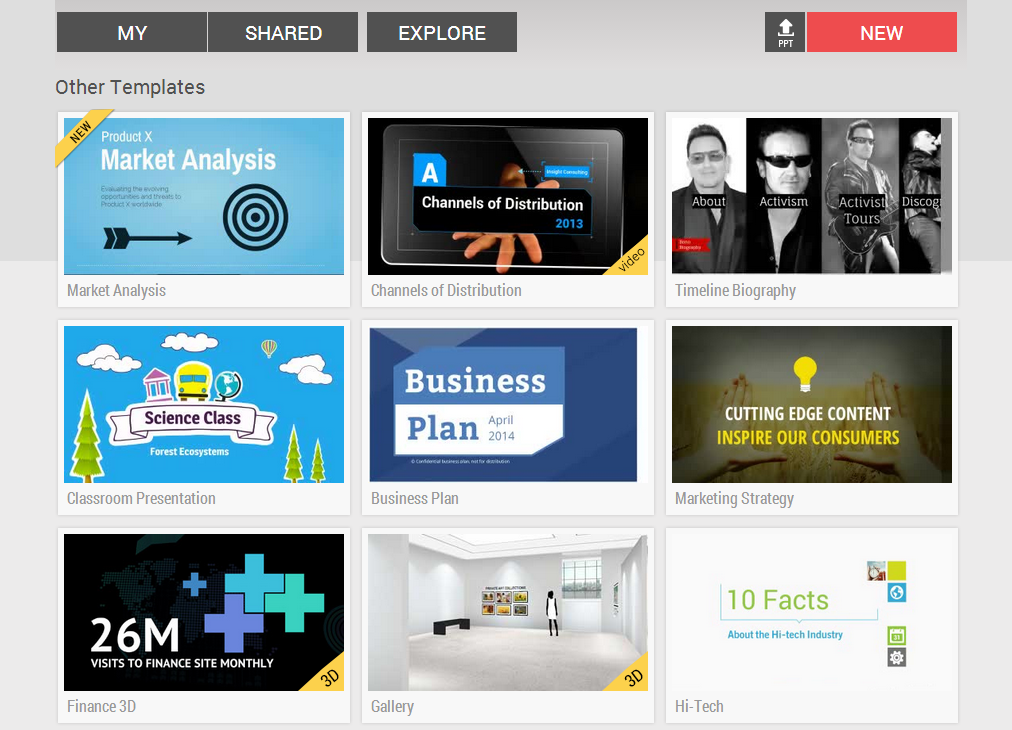 You'll notice some of these templates have the yellow "3D" tag on them – this means these presentations have 3D animation effects.
Each template design contains multiple slide designs to choose from. Simply choose the design you want to work with, click the "Slide" button and choose from the many slide designs available to you.
And remember, you can only do so much towards getting that perfect "first impression." In the end, you can't completely control how people will react to something. The most you can do is choose the best possible design in your eyes, go over the presentation when you're done to make sure it looks good and professional, and have a few objective friends take a look and see what their first impressions are.
Good luck!