When you woke up, did you jump straight onto your social media to see what you missed overnight? Ok, you're not alone! What if there was a centralized network that enables all socials in one feed, a social media aggregator platform of sorts?
What Is a Social Media Aggregator?
You may have already seen some tools that allow you to bring together updates and posts from numerous different platforms (Instagram, Facebook, Twitter, Whatsapp, Youtube, LinkedIn, Snapchat, WeChat, Tumblr, Pinterest, Twitch and others) and curate them in one business. After on, your social media display can be shown on a wall or on a website helping you drive engagement and generate a buzz around your company.
Do you want to become a useful and trusted source of information for your followers?
We guess the answer is yes! BUT how to do that when there's no time to put together all original content? Well…
Meet emaze.me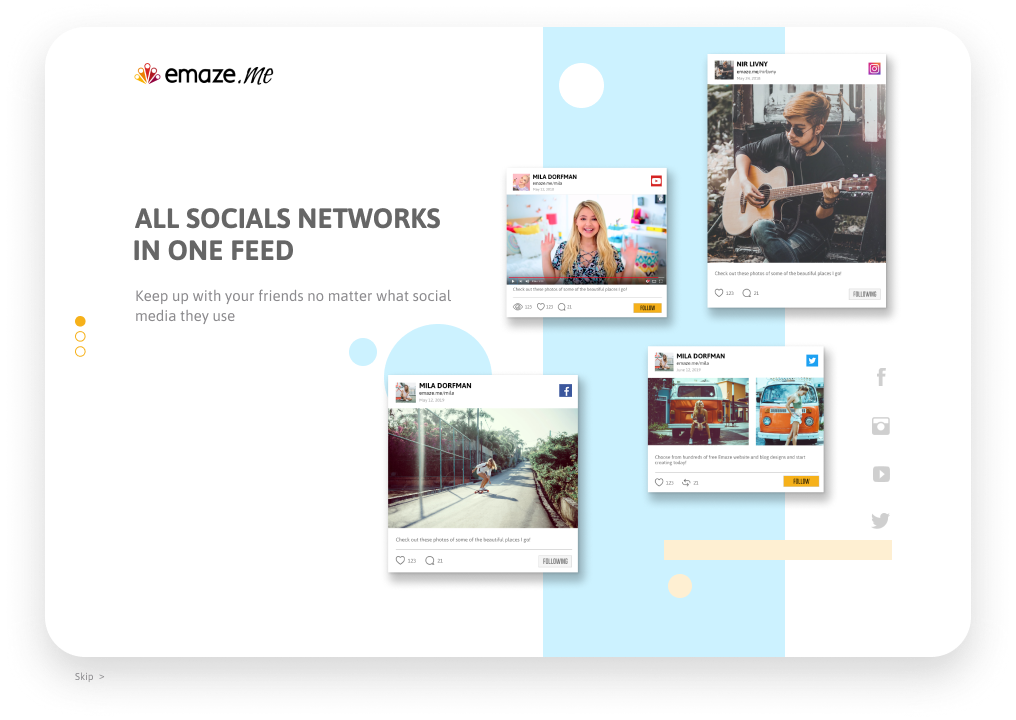 Our team is excited to introduce Emaze.me, our open social media network for all feeds with automatic minute by minute engagement. Brands and consumers can view other users' Emaze websites, and explore the
content from all of their social media channels in one centralized feed.
We give you the chance to share interesting content and generate engagements amongst your audience without having to spend hours putting all your social content together. Check why is the right choice for you and your business:
The Ability to Expose
This strategy is incredible, especially if you plan on sharing your feeds in real-time.
These days, the Internet is full of trolls, and if you say that your Facebook posts didn't get the same number of likes on Instagram, that won't sound good.
Think about what this would mean if you were showing your Emaze.me feed at a live event with the display on full show for everyone to see. Wouldn't they be surprised to see your recent post, most popular, likes and comments post in one place?
The ability to expose means you can show various content stats at the same place (without the need to open Instagram, Facebook, Youtube, and others) and a life on your public-facing feed, saving you and your business from potentially sticky situations.
Content Management
The great thing about using our social aggregator feed is that you can craft your own story. As well as pulling in content from your followings, we allow you to manage information such as your writing your own description, including websites & stores, selecting your niche and much more.
Analytics
Chances are, you're going to want to know how well your social media aggregator performed, right?
If you're a marketer or someone willing to improve your stats, you might want to glean results and optimize your content and feed to have a higher number of followers, or better results and traffic. At Emaze.me you get full reports on your audience's engagement, as well as get numbers, facts, and figures about your feed's overall performance.Sign up to Emaze.me, keep up with your friends and start exploring all features.