"It's not just a presentation, it's a performance." To deliver an inspiring presentation, you need to be captivating, compelling and passionate.
A Firm Passion In Your Idea Inspires People
Remember the day when Steve Jobs took the stage and delivered a presentation that promised to change the world? It did. It wasn't just a revolutionary product that changed people's lives. It was a revolutionary performance that inspired millions beyond the audience in the room that morning. I was one of those people, watching his presentation from halfway across the globe, kept in suspense and completely captivated by the way he was telling me that this is the phenomenal product that I've been waiting for.
One of the most inspiring professional speakers, he kept the audience clapping and cheering every 5 minutes. He was indeed a master of setting the audience's expectations high, and always meeting them even higher. During his keynote, he marveled endlessly at his own creation as if the iPhone blew him away too. Jobs' presentation was full of passion. And that passion was inspiring.
He said "the ones who are crazy enough to think that they can change the world, are the ones who do."
Personal Storytelling Captivates People
No one would have thought that a small project, not bigger than the wall of an abandoned one-storey house in New Orleans, could change the way people live their lives in a community. Well, Candy Chang had an idea that people can help improve the lives of others in simple ways. This eventually led her to start what became a global art project – Before I Die.
I personally came across this project  in my college campus where a bunch of students set up a "Before I graduate, I want to ______" wall. It was a heartwarming sight and certainly a timely reminder that we should act on our goals and dreams. My curiosity was piqued and I realized that it was Chang's emotional and heartfelt story that inspired communities around the world to make 525 walls today and counting. Check out her inspiring presentation on TED below:
There is just something so magical about storytelling that captivates people and helps them to remember your presentation better.
According to communications expert Nancy Duarte, stories are engaging because they have a dramatic story structure, and presentations can too if they incorporate a shapely structure. The greatest communicators of all time all have a certain shapeliness to their presentations. This is how their inspiring presentations looked like: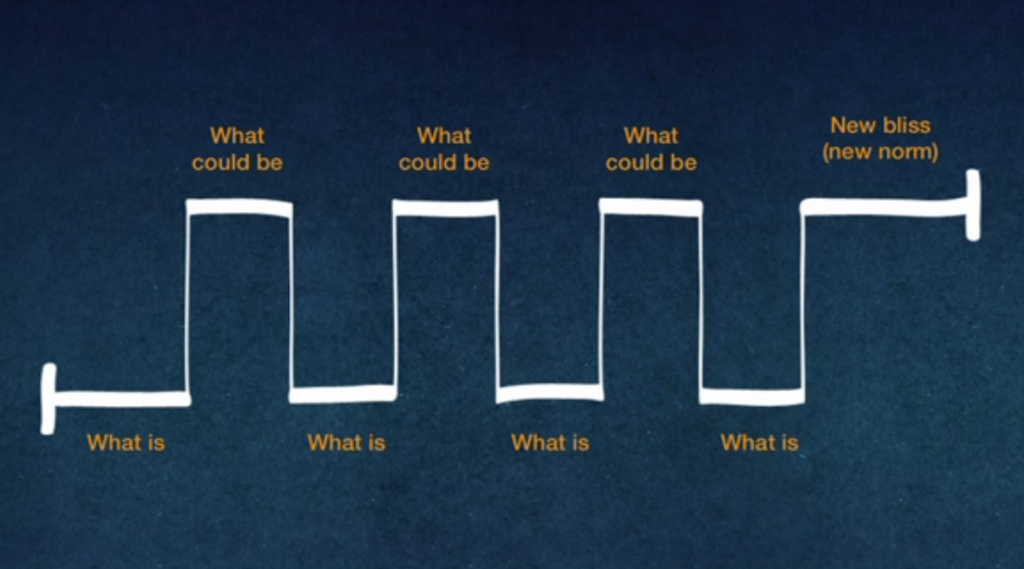 If your stories can influence the perspectives and emotional reactions of people, then you would be very successful in engaging your audience.
Give Your Audience A Visual Experience
Storytelling is, of course, best accompanied by visuals. Research has shown that it is 6 times easier to recall information when people see images rather than text. Pictures can help to trigger emotions, and emotions are the key to making stories memorable.
Haas and Hahn's amazing story takes the audience on a visual journey that appeals to their understanding of how it simply takes an idea, your passion and some determination to change the lives of others. The before and after photos of their work are truly inspiring and it is noteworthy how they made the story not about them, but about the communities that came together to make this project possible.
An inspiring presentation is one that influences people to care enough to want to take action.
It's Your Turn To Change The World
Everything starts with an idea. It's certainly not true that you have to be Steve Jobs or Martin Luther King to give presentations that can change the world. You don't have to be famous really, you just need to be inspiring. Don't think so much about how big an idea you need to change the world, but rather focus on how your idea is simply a powerful tool that can make an impact in this world if you know how to present and perform it well.
"I alone cannot change the world, but I can cast a stone across the waters to create many ripples." -Mother Teresa
Presentation design is important for telling your stories. emaze has everything you need to create engaging content. Did you know that beautiful presentation slides not only gives you more confidence as a speaker, but is also a sign to your audience to take you seriously and to be interested in what you have to say?
Ready to give inspiring presentations that can change the world? Identify your passion, spread your ideas and make a difference no matter how small!