Everyone knows the real heart and soul of a viral video is your winning concept and script that lays at the core of it all (if you're still not sure it's about time you checked out our definitive guide to virality). However, without brilliant planning and execution your concept and script will remain just that, merely ideas.
When you have a brilliant idea, the execution is nothing more than a push of a button. While execution does play a rather crucial role in the outcome of your video, the only way to tell if we've achieved a staggering work of genius, or just another run of the mill vine, is by viewing it at the end of the entire process. This process can sometimes take months, by the time you send it off to an editor and receive it back your winning idea may not even be trending anymore.
Catch 22 Solved
This is a paradox video marketers, producers, publishers, etc. have been dealing with for a long time. Perhaps this Catch 22 is the reason viral videos are rarely ever planned, for the difficulty in maximizing all features in a set amount of time can obscure the timeliness needed for a video to go viral.
Using two seemingly magical tools, I was able to review my entire video, from beginning to end, right from the start. These tools diminished any sense of curiosity, guessing, or anxiety right off the bat allowing me to focus on what's really important, the core idea. Instead of planning and producing for weeks and hoping and praying all the while for a good outcome, we were able to take a good look at the end results within the first hour of production time.
Magic Making Tools
Enough keeping you in suspense, the two tools we used in conjunction to solve this paradoxical situation, and create a viral video in a half a day with two dollars were (drum roll please) emaze, and LookAt.
First we used emaze as a platform to create our storyboard to encompass the look and feel for our video.
Any of you who are in the business and have mapped out your storyline before know how unresourceful and time consuming this process can be. Utilizing emaze's cloud based presentation platform you can create, edit, and present your storyboard ideas to the rest of your team seamlessly, within two seconds your storyboard comes to life. This allows room for criticism, editing, and elaborating without having to start anew but simply adding and deleting frames as needed. Once we had used emaze to basically outline the entire story it took less than an hour to come up with the foundations of a video we had aimed for. The platform's video tool allows you to watch the storyboard production from start to end to grasp the feeling and look that the video will entail.
Now that we had come up with a basis, it was time to get the whole team involved to start some serious brainstorming and pitching of ideas. In order to easily give access to the entire team we shared the first round of the emaze video via LookAt. Each individual viewer contributed their feedback and pinpointed their responses to specific frames in the video in real time providing the most accurate and up to date critiques.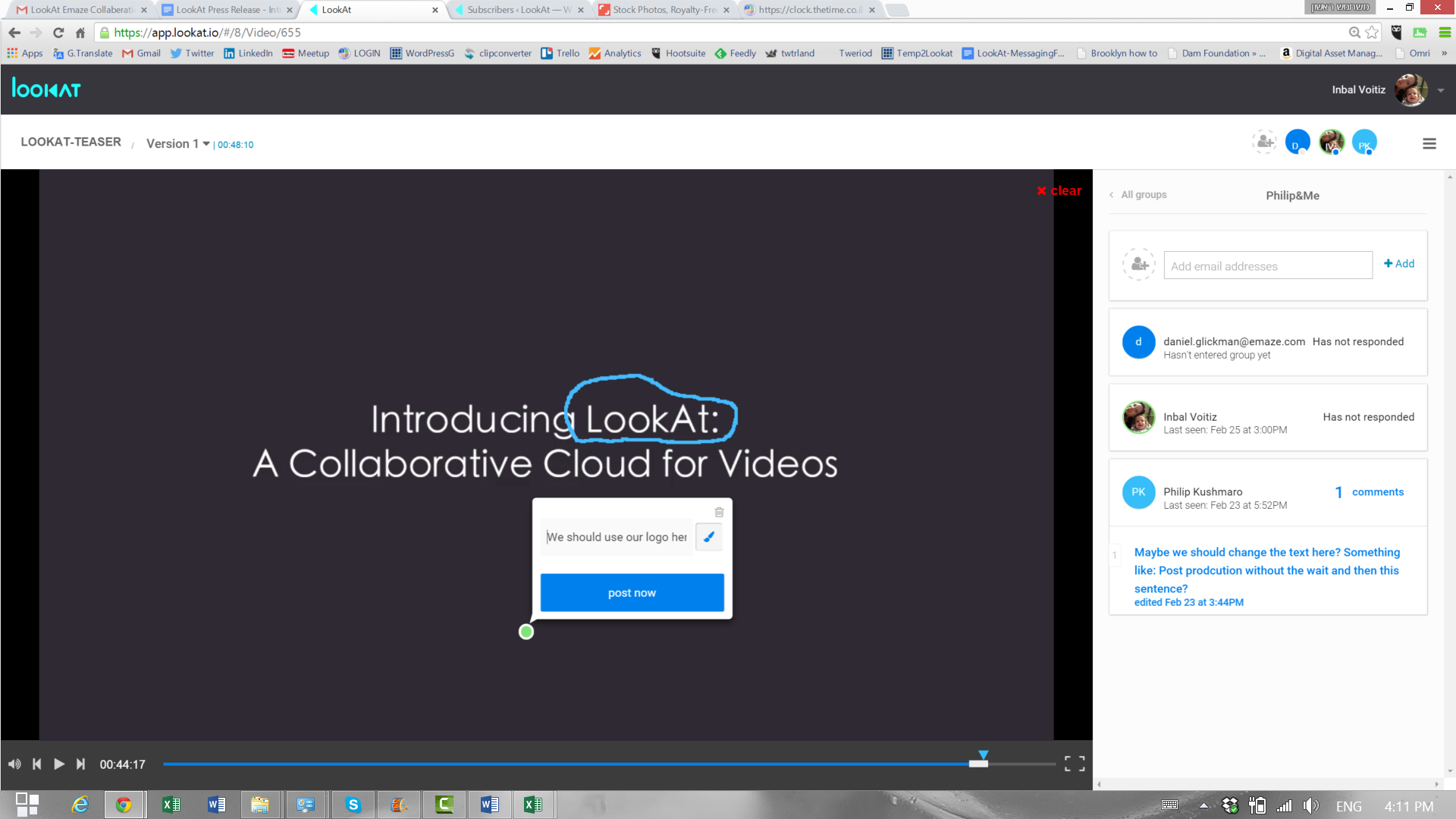 Unlike using other professional video tools, when we used LookAt we were able to make instant changes extremely quickly and easily. When each person made their critiques we could instantly see how these changes would affect the video as a whole, effectively taking the guessing out of the whole catch 22.
After just a few more hours of playing with the videos, altering titles, and timing to achieve your perfect result we uploaded the final version to LookAt. After the video was uploaded, again the entire team could compare and discuss the final product. By the time the best version was selected we knew exactly what we were left with and the final product was nothing short of exactly what we had wished for. And voila we were done by lunchtime.

Credit to Inbal Voitiz from LookAt.