Have you heard about visual storytelling before? Get to know more about this effective tool that improves interactive presentation!
What is storytelling?
Storytelling is a strong mechanism that inspires people to contribute ideas and evoke strong emotions and insights. However, to reach on those people and achieve these results, storytelling must be strategic.
"It is often assumed that the majority of our time at Digital Storytellers is spent behind the camera. In fact, perhaps the most important work (and the most time consuming) is the task of simply discovering the best, and most impactful, story to tell." – Digital Storyteller
Now that you have a better picture of what it means, let's talk about the benefits. Storytelling enables the articulation of emotional aspects as well as factual content, in a way that allows expression of tacit knowledge. Also, by grounding facts in a narrative structure, it expands the probability that learning will take place and will be passed on. When storytelling provides the broader context – in which knowledge arises, – it increases the potential for meaningful knowledge-sharing.
A picture can tell a thousand words
Impressed with the idea of including visual storytelling in your next presentation, but don't know exactly where to start? We're here to help you!
The main goal is to understand your audience, make them care, set the scene, understand your punchline, engage your audience and end with a grand finale are the main step-by-step to create successful storytelling. But the first step you need to define is the action you want your target to take after the presentation finishes. For sure you need to consider the message and narrative flow so that will persuade your audience.
Once the story makes sense, scan everything and highlight if there's any particularly complex. After that, decide what type of visual will be the most impactful for you to use. You're more than welcome to put pen to paper and start sketching (yes, real paper and real pen) your story. We emphasize that creating your presentation with Emaze make it much better! Get to know how Emaze can help you bring visual storytelling to your presentations.
Emaze helps creating visual storytelling
Once the story is done and you know how your promoting, let's start using Emaze! Now it's time to log in at Emaze, choose any template that matches the style and add all information to each slide.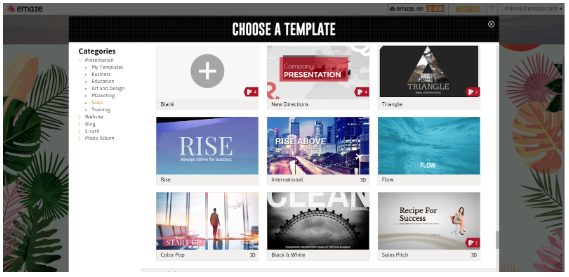 With Emaze you can expect dozens of features that will bring your presentation up and with visual storytelling, like 2D and 3D effects, video background, different transitions, many text effects, import audio, video and photos, social media widgets and more!
If you pinpointed everything we've mentioned, and put that in practice at our website, your story is ready to create a huge impact!
Curious about what else can be achieved with visual storytelling? Get in touch with us via info@emaze.com or reach out to us on Facebook, Instagram or Twitter.