Trying to achieve success in the workplace but don't know where to start? We've all been there, struggling to get our message across the way we want. Trying to make sure we're using the right words in the right way, to properly convey our message. All while avoiding the dreaded "awkward silence", but you've worked hard on your pitch, and you want it to show.
However, good communication is not always a natural talent. If you've ever found it difficult to effectively communicate, or want to enhance your skills, keep reading. We will present you with some tips and tricks to help you achieve success in and out of the workplace.
In this article, we'll teach you how best to ensure that you are achieving your communication goals. Including tips on how to deliver a top-tier performance in any presentation to better help you achieve success in the workplace.
The Art of Listening
Most people assume that communication implies talking. However, learning to listen is actually just as, if not more, important. When you listen, you learn. When you speak, you relay. So make sure you listen. 
Communication is a two-way process, and often, we fail to actually listen to the responses we receive. A great strategy to ensure someone is actively listening is to ask questions.
When you ask questions, you gain a better understanding of a subject or simply form a stronger bond with the speaker. During the COVID-19 pandemic, our mode of communication changed. We learned to primarily communicate virtually. With these changes, proving that you are actively listening and interacting was even more important, as you could no longer rely on body language to show your engagement. Body language is often a crucial factor when effectively interacting and connecting with others.
Plan What You Have to Say
A solid communication plan is crucial to ensure that the right message gets delivered to the right audience. It's not as simple as it sounds though, a poorly planned meeting can lead to frustration, misunderstandings, or missed opportunities. It might sound silly, but if you're unsure about what to cover in your meetings, or are nervous about forgetting certain aspects of engaging with your audience: prepare a checklist! There is nothing wrong with writing down points you want to cover in your next presentation. Being prepared will help you identify what areas you need to strengthen to achieve your goals. 
Storytelling is a powerful technique to engage people's emotions and connect with them. A single story can help you bridge together with an entire room of people. Whether presenting a marketing campaign or a business idea, storytelling gives your message depth and color. The more you can evoke emotion from your information, the more your potential customers will connect with your product or service. Remember to stay true to yourself and provide the audience with valuable dialogue, not just entertainment. Focus on sharing, rather than selling, to keep your customers intrigued.
Nowadays, we have social media platforms, which are excellent channels for telling stories with the click of a button. With one quick 'story' on Instagram or a shared video on YouTube, you can share updated and relevant content to millions of followers. 
Always remember: make eye contact with your audience and tell your story, don't simply relay information.
Face-To-Face Communication Is Not Dead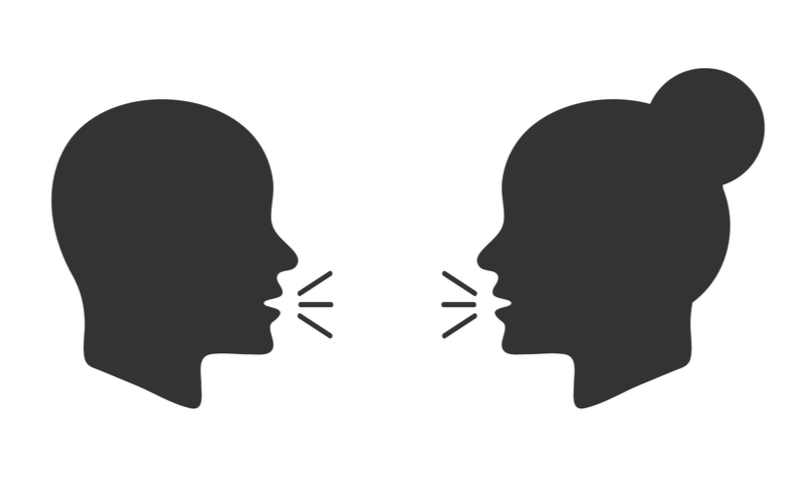 Over the past few years, we underwent a massive shift, from tangible to digital. Suddenly we went from cash payments to online shopping. Meeting in café's to swiping on apps. Even grocery shopping has found its way into the palm of our hands. However, some things can never be replaced. Interpersonal relationships will always require a personal touch. Job interviews, family meetings, and product demos may have all gone digital, but personal engagement is still needed to build relationships.
Pro-tip: Experiencing stress is completely natural and normal. If you're jittery about your next presentation, include a joke to help break the ice. Laughing can help relieve stress and anxiety. So go ahead, tell that story about how your aunt's dog ate your hamburger at the family reunion! Most people enjoy laughing and a good joke, and if your quip falls flat? You'll gain points for trying.
We Attract What We Are

As humans, our brains are conditioned to seek out pleasure. Our brain doesn't enjoy being around sadness and negativity. So on the days when you're really feeling down in the dumps, do your best to maintain a positive attitude. It'll help not only those you're presenting to enjoy being around you, but will also help you turn your mood around. Sometimes: "fake it till you make it" is more than just a phrase. There's nothing more motivating than a "can-do attitude" so when something doesn't turn out as planned, stay optimistic. See what you can learn from the experience. By presenting yourself as you would like to be perceived, your audience will pick up on that energy and match it. Good energy is the building block for a successful meeting.  
Non-verbal communication is responsible for delivering an estimated 80% of your message. It is crucial to be aware of your body language, tone, eye contact, etc., when communicating; be it with friends, colleagues, or during business presentations. With all the apps and devices used for communication these days, we forget how important non-verbal cues are, and how much we subconsciously look for them in all of our interactions. Don't fall into the digital trap, communicate virtually as though you're in person, and watch your engagement and interest multiply. 
Click here to get started!