You've got an upcoming presentation? Not sure if there will be a stable internet connection to present your project? Or rather you want a hard copy to hand out to your audience? In those situations, it's always a smart choice to download your presentation in offline formats.
Emaze offers multiple solutions for offline presentations, you can download your presentation to PDF, HTML and MP4 formats. Below are the pros and cons of each format.
HTML format (Most Recommended)
Pros: This export format allows you to present while being offline. Once you create your presentation on Emaze and download it, a .zip file will be downloaded. Open it and expand the folder to find the HTML file within. This will open your presentation in your default browser and it will display all animations and features for offline presentation.
Cons: Downloading as HTML doesn't allow you to add links because it won't play it. Once you receive the file and open it, it will show up on your local machine, not as a URL link. This means that you're not able to share the link by email or post it on social networks (but you can always share the link of the original presentation). Also note that videos can't be reproduced while being offline.
PDF format 
Pros: This format works best for printing and sharing either by email or hand out to everyone you need. PDF files it's designed to create transferable documents that can be shared across multiple platforms. 
Cons: With this download format, you'll get an image of your slides containing all visual information (text and images) but without transition animations nor 3D or videos. Once you export it as a PDF, your presentation won't come up with the bleed marks.
Video (mp4) format
Pros: This multimedia file format delivers an excellent streaming quality on the Internet and mobile devices. Unlike other download types, there is less loss of quality and with a higher degree of compression. It supports things such as the effects and embedded interactivity features of your presentation. 
Once you request to export as an mp4 format, you'll receive the download link on the email address associated with Emaze. This means you can also store your presentation on a USB and post on your social networks, blog or website. 
Cons: One of the drawbacks of this download format is from editing, fixing the auto-play and updating the file once it's already done. So if you need to reduce time, delete one slide or do whatever changes it won't be that easy. There are also some piracy issues with it, which means that if you share it in public you're susceptible to getting copies. Sharing with others can be a challenge once mp4 files are very heavy to send. You might need to send it by a different internet-based computer file transfer service.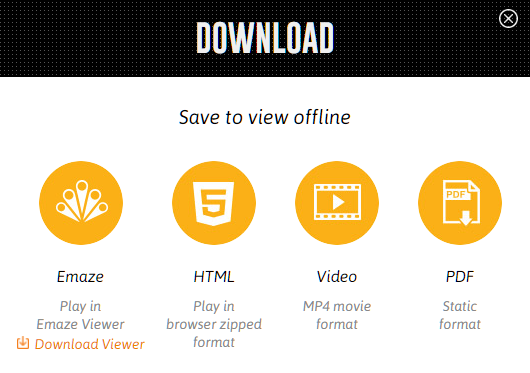 What format is better for offline presentations?
Choosing the right download format depends entirely on what you plan using the presentation for. There are several types of formats you can download your file from Emaze, but you should choose a format that fits your needs (and nothing more). 
Keep in mind that even though all the above-mentioned solutions for offline presentations are great you can still open your presentation on your browser while you still have an Internet connection and your browser will cache your presentation without having to download anything in advance. Everything should work including the transition and videos except for any live widgets you may have implemented.
We hope that this guide has helped you learn the best download format for your offline presentations and their features. If you like this tutorial, please follow us on Facebook and Instagram for more free guides.