You're on a long road trip — the highway stretches out ahead, the wind whistles past your open windows, and your favorite tunes set the mood. The only thing that could make your trip more enjoyable and relaxing would be if your car could navigate the entire way on its own, dodge traffic, and find the best pit stops. What if we told you that Automaze for automotive sales does exactly that? This tool takes care of all the tedious parts of your sales journey, so you can enjoy the drive and focus on what matters – your customers. With Automaze's resourceful analytics and incredible digital asset manager, you'll be equipped to beat your competitors in the automotive industry.
Challenges in the Automotive Sales World
Time-Consuming Sales Processes
Let's face it, selling cars isn't just about the pitch. Sales teams constantly struggle with challenges: One of the major ones? Time. Many salespeople are swamped, however, much of their time is used up on mindless tasks like paperwork and shifting through digital clutter to find the right details. Sending out summaries using channels like emails and SMS, takes up too much time and feels out-of-date.
Keeping Brand Messages Clear and Mistake-Free
Companies juggle brand, marketing, and legal in their day-to-day. Slip ups are all too common, but are easy to overlook in the grand scheme of things, which could lead to large repercussions down the line. Even a tiny slip can make things messy and off-brand. Ensuring every message that's sent out is correct and fits the brand is critical in today's hard to navigate digital labyrinth.
Analytics: Data Is Everything – Until It Isn't
Research conducted by a Harvard Business Review survey of more than 360 executives revealed that data-driven companies achieve "higher scores across all key performance indicators, such as profitability, market share, and customer satisfaction" than their peers. It's clear that analytics is often the beacon that guides smart decision-making. Let's say you connect 5 different analytic tools that pump tons of numbers, terms, and formulas onto your monitor. Great, right? Wrong. Too many businesses find themselves stuck in a mess of confusing or even useless numbers. Making sense of disorganized, unintuitive numbers becomes challenging, turning decisions into a game of blind chess rather than data driven.
Facing Those Challenges the Automaze Way
When confronting the intricate challenges in the automotive sales world, a solution is needed that not only solves the issues but transforms the entire process. Automaze steps in to offer precisely that.
Automaze isn't just about improving your sales strategy; it's about redefining the way that you connect with your clients. Picture a system where, after every CRM touchpoint, each client receives digital content tailored specifically to their position in the customer journey.
In today's digital age, personalized communication isn't a luxury; it's an expectation. With Automaze, every piece of content is branded and finely tuned to resonate with each prospect's unique needs. No more outdated SMS notifications or generic emails. Our state-of-the-art web tool offers a visually stunning communication journey that captivates its audience with not only relevant information but also unmatched personalization.
We didn't just leave it at a new, revolutionary communication journey. We also designed Automaze to simplify the sales process so that even John from across the office can finally close a deal. Think of it as having a tool that understands your prospects so well it provides them with exactly what they need, when they need it. This means your sales team can focus on building relationships and closing deals, leaving repetitive tasks to be handled automatically. Resulting in a more productive and successful sales process where every detail is accounted for.
Want to see Automaze for automotive sales in action? Experience it firsthand!
Sharper Sales Analytics and Lead Conversion
Let's talk about getting leads – the starting point of your sales journey. Automaze doesn't just help you gain leads; it helps you zero in on the right ones! By improving the early stages of your sales process, we make it easier and faster to connect with potential buyers who are genuinely interested.
Automaze's sales analytics helps you keep an eye on customer interactions, from open rates to time spent on proposals. These insights will help you better understand your leads and fine-tune your approach for even better results.
You can also gauge your lead's interest by keeping an eye on how they interact with the information you send. A salesperson that's scheduled to meet a prospect should know if the prospect engaged with the content that was sent. More than simple open/unopened stats, you can also monitor:
Number of views

Unique views / average of uniques

Clicks and active time engagement

Geolocation of the viewer

Peak engagement days and hours
With Automaze by your side, a sea of prospects are intelligently targeted with lead scores, allowing your team to reach out to the most qualified prospects, setting up your sales team for unmatched success.
Hosting Automotive Events With Automaze
Planning a big car launch or an exciting mega sale? Easily set up event packages tailored to your needs.
Start by designing eye-catching invitations and, for a modern touch, include scan-ready QR codes for swift RSVPs. Curious about who's as excited as you are? Track who's checked out your invitations, so you know who to expect.
Once the event wraps up, don't let the memories fade: create a vibrant photo album to share the highlights and send attendees a special thank you landing page, giving them the chance to relive the excitement.
For those who couldn't be there, the photo album shows them exactly what they missed, with your choice of gorgeous album templates. From start to finish, Automaze ensures your automotive events are successful and unforgettable.
Your All-Inclusive Digital Asset Manager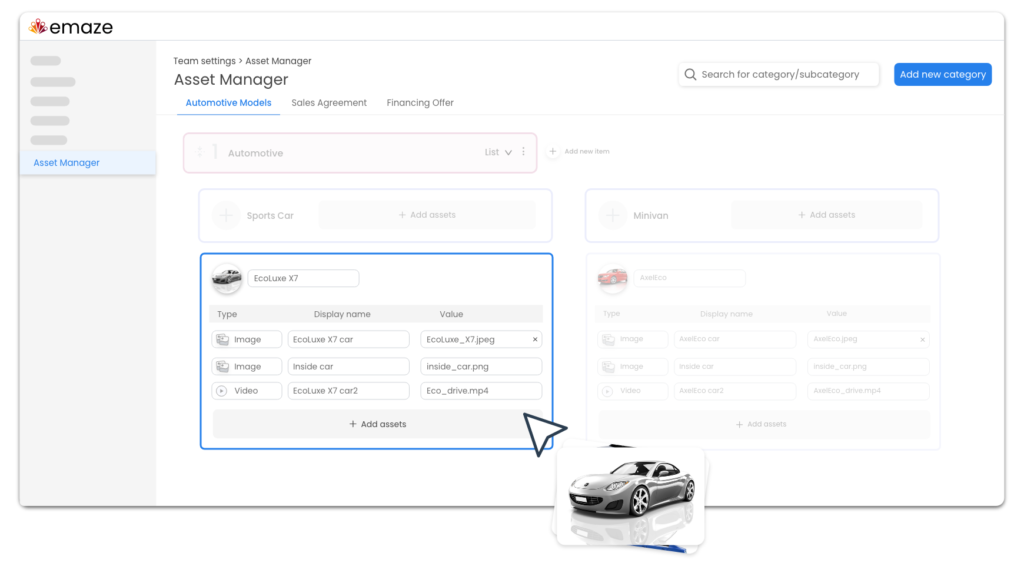 Every salesperson knows the pain of shuffling through countless files for that one piece of information. Automaze's asset library becomes the single source of truth. From the latest sedan's specs to a particular sales rep's personal details—everything is neatly stored and ready to be used in dynamic creations. With intuitive CRM integrations, accessing and updating records becomes effortless.
User Journey and Flow Builder
Design your sales process just the way you want it with Automaze's user journey and flow builder. In the competitive automotive industry, having a well-defined and efficient sales process can be a significant advantage. By using our user journey and flow builder, businesses can outpace competitors who are using less flexible or comprehensive tools.
Customization is everything at emaze and our tools are designed with that in mind. We allow you to design your sales process exactly the way you want it. This means you can tailor your sales approach to the unique needs and preferences of your automotive customers, rather than relying on a one-size-fits-all solution.
This clarity empowers businesses to make better informed decisions, adjust strategies in real-time, and remain aligned with the evolving needs of the automotive market.
Here's an example of a sales journey that you can create:

Wrapping Up
Automaze provides a ground-breaking sales experience that is incredibly easy to configure and manage. Automaze for automotive sales takes your boring sales process and transforms it into an experience that ensures every lead feels unique through automated customization.
Your sales process transformation doesn't end there. We've eliminated the all too common frantic search for one file that always happens mid-meeting; Automaze's digital asset manager holds everything you need. Create tailored content? Done. Need to adjust those user journeys? Got it.
We've got the toolkit that doesn't just change the game—it sets a new standard. And here's the kicker: we're all in to tweak and twist to make our product fit for your team.
Ready to leave your competitors and old methods in the dust? Schedule a demo and discover how we can drive your automotive sales to new heights.