Mar 31 2021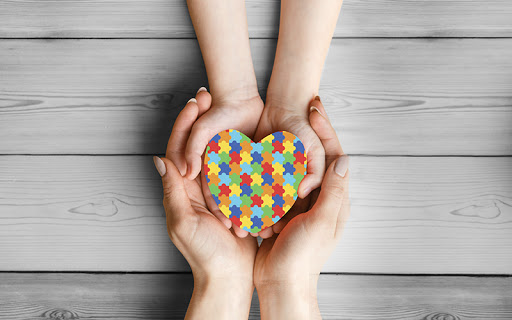 How Online Learning helps Autistic People?
International Autism day
Online learning is the new normal learning. Whether you are a teacher or a student, we are all adapting to brand new teaching methods. Learning is now digital, and although it is challenging to replicate the environment your child on the spectrum has grown accustomed to.
At Emaze we make it possible. A growing number of students are adapting to the style of education with our presentations, as it allows more outside-the-box thinking. Emaze offers products for all types of audiences, despite any type of disability.
Online learnings create a more relaxing atmosphere and ease anxiety. Students with anxiety are alleviated when studying online, as they are free of the constant pressure of keeping up with the pace of their classmates. As a teacher, you should display a summary of the class content at first to make the lesson more predictable. In this way, students will be less tense and worried, as they will have a glimpse of what they will learn in the lesson. In addition, making classes predictable will help avoid distraction and students can achieve a better focus on the work. Give your student a schedule that they can follow. If there are any unpredictable changes, it's a great teaching moment to model how to handle changes appropriately.
Virtual Learning Success Tips
Though this time is challenging as a parent, especially one of a student on the spectrum often in regular communication with teachers and counsellors, we can choose to look at this as a challenge to overcome. It is essential to create a thoughtful environment in place and appreciate the unique opportunities offered virtually, students have a chance to thrive in this new model of education. With a growing number of children who have autism in school. Here are some steps you can take to help them learn, academically and socially.

How they people deal with it?
At Emaze, Emaze, we make it easier for kids to cope with their condition and provide a distraction from pain through enjoyable and engaging educational presentations. Lessons though with fun and innovative presentations also help student engage more and create a bond with the teacher. Though there are a fair amount of limits when restricted to teaching through a screen, many educators have taken this time to get creative, which has resulted in being able to continue delivering engaging lessons for the students. In a time where flexibility is necessary, teachers have made it so virtual learning is a period of increased growth–academically, behaviourally, and socially. In addition, they continue to overcome obstacles through the additional supports available in a virtual setting.
With our distinctive themed presentations lessons can be catered to the children's interests. With our variety of transitions, the audience stays focused on the lesson. In addition, forms can also help students stay engaged as they can submit different questions through a simple survey within the presentation. Communication is vastly improved as the student has the opportunity to clearly submit doubts according to the lessons. Emaze students that are on the spectrum can share their homework with their teacher and classmates instantly. With our innovative technologies, students can see real-time changes, therefore remain engaged and motivated when absorbing knowledge. In particularly students on the spectrum have to face more challenges when it comes to staying focused. On top of that, issues like digital connectivity disrupt online meet-ups.