Jun 16 2020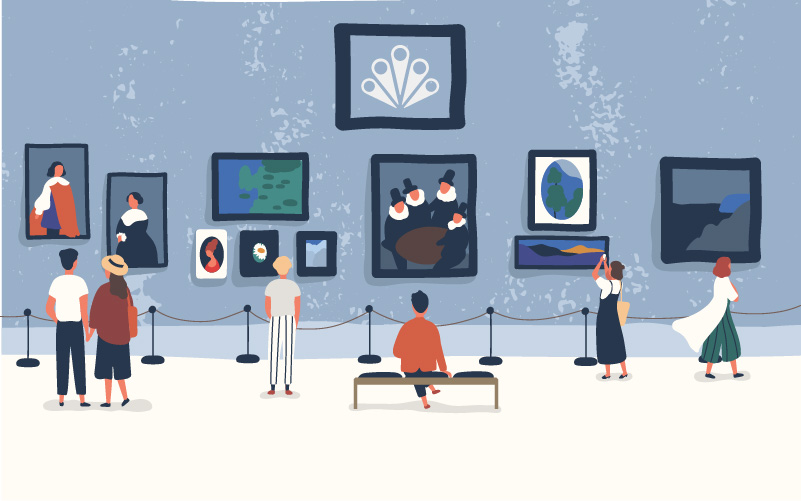 Using Emaze To Create A Virtual Art Gallery
Reading Time:
3
minutes
How great would it be to own an art gallery to showcase your work on your terms, without social distancing and with the ability to display anytime you want? With many art teachers now planning lessons at home due to the pandemic, did you know with emaze students can submit artwork remotely? It may sound like a dream, but with emaze, your dream to create a virtual art gallery can be reality!
Emaze allows users to create virtual art galleries in lifelike 3D spaces. It is a software for everyone and anyone to model actual or virtual exhibitions by designing realistic 3D templates. Our technology eliminates the need for coding or web designers. Users can embed live social media feeds, photo and video content, web pages, Gifs, shopping, and more to their creations.
Here's what you can do:
CREATE A VIRTUAL ART GALLERY FOR FREE
Emaze HTML5 platform enables all users to create and display their work. Our templates are always editable, unlike a static image file, meaning that you can go into slides and change something without deleting and re-uploading files. 
UPLOAD DIGITAL CONTENT

Images: Occupy the walls of your virtual areas with images from your PC or the internet, add a title, description, or copyrights, and make them interactive.

Videos: Stream videos from the internet or upload your own. Give them a title, description, and copyrights, alter their dimensions and embed.

Sound: Add music or narration to any type of content and make your virtual space even more interactive.

PPT/PDF: Easily import and convert your already existing files and transform them automatically into a more dynamic, engaging, and visually compelling emaze presentation.

NO REAL SPACE NEEDED

Arrange, curate, and archive your students' exhibitions in a 3D virtual exhibition presentation. Choose from a variety of already-made templates or let us help you design your own.

EASY SHARING

Want to embed your 3D exhibitions on your website or social media? Not a problem! It's supported by our system. The embed code as well as a web link are readily provided. You can also share your presentation by email and on social media.

PRESENT YOUR ART

Through a simple, interactive tool artwork can be accessed all over the internet. With any web browser, without any additional software requirements, or even downloaded as PDF, video, HTML, or in the emaze Viewer (offline) format.

NO UPLOAD LIMIT

At emaze there's no limit on the number of images, videos, or music uploaded, and no limit on file size. You can upload very large and high-resolution artwork from hundreds of students in one gallery, share all artists statements with as many people as you'd like and get the arts seen by the right people!

SEE WHAT TEACHERS ARE SAYING

"I wanted to let you know how AMAZING the gallery platform is.  I just finished creating the art show for my students.  It has been so well received by the community, I have shared a link if you are interested in seeing the show.  I also want to share emaze with as many art educators as possible, and am on 5 different social media sites for art educators, a total of over 30,000 members!  I have also shared it with my school district: Denver Public Schools, with hundreds of teachers.  All I know is that any art teacher who wants to put on an art show NEEDS this platform." – Jennifer (Denver Public Schools)

"My students are so enthusiastic about using Emaze as their primary presentation platform for formative assessments. Emaze is extremely user friendly and each student-made presentation is as unique as each individual in the class. The wide range of available templates is incredible, giving students unlimited choices for creating presentations. Students look forward to viewing their classmate's Emaze and are always willing to teach each how to use the new features they have discovered. Emaze brings student work to life! " – Donna Mcgouch (Wedgwood Elementary School)"

"We are so grateful to emaze for providing the incredible platform that allowed us to showcase and celebrate our students' artwork! They all loved it, and we are so thankful to have had access to this amazing resource to make it happen!" – Mrs. Maida
Create high-quality 3D exhibitions of your art, share them, embed them into your website or blog, and WOW everyone!