Apr 2 2014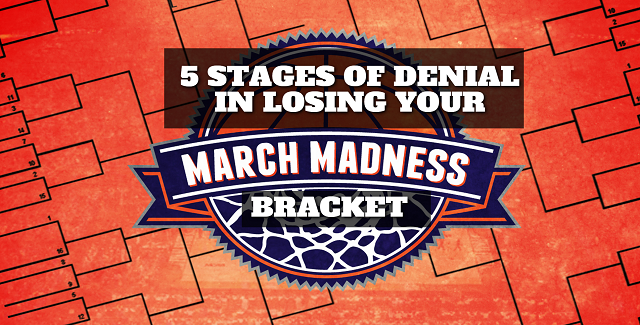 5 Stages of Denial in Losing your March Madness Bracket
Reading Time:
< 1
minute
So you've already lost your March Madness bracket and wasted endless hours creating a formula to win. You were really hoping to win Warren Buffett's yearly prize package of $1 Billion for a perfect bracket. 
5 Stages of Denial in Losing your March Madness Bracket
created with emaze presentation software
Don't sweat it, USA Today reports the odds of actually completing a perfect bracket are 1 in 9.2 quintillion. You have a 1 to 3,000 chance to be struck by lightning, which is more probable than winning your bracket.
Put that Budweiser down, no one likes a sore loser. The first step to overcoming your loss is admitting you have a problem and going through the grievance process.
1. Denial
You realized you made one of the most unlikely bets of your entire life. You rooted for your alma mater and they failed you…big time.
2. Anger
Don't burn your team shirt just yet, they just disappointed you and will regain your trust with time
3. Bargaining.
"If only I had considered that in hindsight, Duke kind of sucked this year".
4. Depression
That losing bet caused you to be humiliated in front of your co-workers by wearing the fanwear of your rival team. Let the shame ensue.
5. Acceptance
Just remember, you were relying on a bunch of 18 to 22 year olds to win a game for you. Come on, they're not even getting paid!